Thao Pham Fundraising Page on Saving Lives – Nation's Triathlon for Leukemia and Lymphoma Society
SOURCE: Event page on Facebook by Thao Pham
I recently found out that a friend of mine (we are keeping her name under wraps for now) was recently diagnosed with leukemia. She was a happy, loving and full of energy and life. Then one day went in the doctor's office for a casual checkup and was told to rush to the hospital immediately. She was soon diagnosed with leukemia and shortly after began her treatment. It cancer came uninvited and derailed everything her life in every way. Fortunately, our friend is very strong in spirit and is responding well to treatment. Her family and friends are keeping her in their prayers and wishing her a quick recovery.
The reality is that cancer happens to the best to us and it is stubborn in wanting to destroy us as much as we want do the same with it. While the death rate for leukemia has decreased over the years due to advancement in research, it is still at a staggering 40%. As a matter of fact, it is estimated that 55,000 people will die from leukemia, lymphoma and myeloma in the US alone. This number is unacceptable, and I am doing something about it.
When I heard about the Nation's Triathlon and the mission of Leukemia and Lymphoma Society I was compelled to help. Completing a triathlon in and of itself is grueling enough, but I come into it partly handicapped. I don't know how to swim; I have never run more than a mile before (only in grade school did I run a full mile for fitness testing); and I just recently got back on the saddle. While I was being treated in the ER a few weeks ago, I realized what a gift life is – a gift that is slowly being taken away from many others who are not very different from us. Although all the odds are stacked against me in this race, the obstacle is much bigger for those who are diagnosed with leukemia. Therefore, I am determined to finish this race and raising $5,000 in honor of my friend and those who are waiting for a cure.
Fifty five thousand is an unacceptable number. Join me in our quest to find a cure and save lives…today!
http://pages.teamintraining.org/nca/nattri14/justdoit
Thanks for being part of the CURE!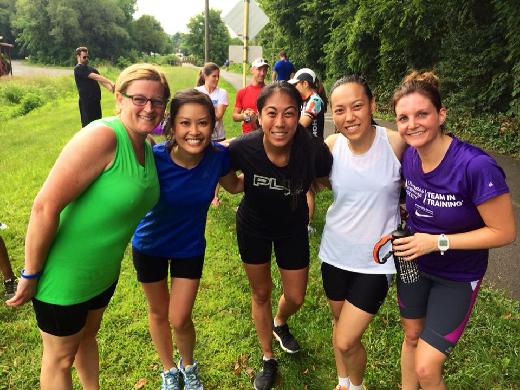 https://www.facebook.com/events/270724699781582/