SOURCE: DC.gov
Monday, July 13, 2015
DPR Celebrates Recreation Day
Day recognizes National Parks and Recreation Month
DPR Media Contacts: 

John Stokes, (202) 288-7275, john.stokes@dc.gov 

Rachel Newman, (202) 340-2910, rachel.newman@dc.gov
(WASHINGTON, DC) – On July 25th from 11 a.m. – 4 p.m. at Randall Field, South Capital and I Streets, SW, the DC Department of Parks and Recreation (DPR) will celebrate National Park and Recreation Month with "Recreation Day," an extravaganza featuring fun activities, entertainment and food for the whole family.
Residents from across DC can enjoy music, swimming, soccer, basketball, softball, moonbounce, dodgeball, horseshoes, sack races, tug of war and more, including competitive fun each hour.
"DPR Recreation Day is a chance for the whole family to have fun at no cost," said DPR Acting Director Keith A. Anderson. "This is the first year for Recreation Day, and we'll continue it each year to showcase the many offerings across the city from DPR," Anderson continued.
This year, the National Recreation and Park Association (NRPA) is celebrating 30 years of "Recreation Month" with an 80's theme for events. During portions of Recreation Day, DPR will honor the 80's with roller skating and 80's music.
Throughout the day, join us for "Talent Search," where residents can go onstage in DPR's Show Mobile and sing, dance, or perform whatever talent they have for fun and DPR prizes. Green thumbs can enjoy gardening tips and demonstrations.
The outdoor pool will be open and fully staffed, and the tennis courts will be open for spirited competition.
This event is open to the public, and is free of charge.
About DPR
The DC Department of Parks and Recreation (DPR) provides quality urban recreation and leisure services for residents and visitors to the District of Columbia. DPR supervises and maintains area parks, community facilities, swimming pools and spray parks, and neighborhood recreation centers. The agency also coordinates a wide variety of recreation and educational programs including sports leagues, youth development, therapeutic recreation, aquatic programming, outdoor adventure, camping and senior citizen activities. Adaptive programs and facilities are available for persons with disabilities.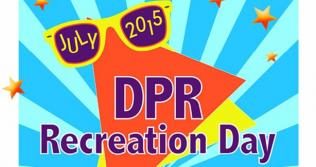 http://dpr.dc.gov/release/dpr-celebrates-recreation-day