The Ritz-Carlton, Washington, D.C. Opens Quadrant: Chic New Lounge In D.C.'s West End
Washington, D.C.'s newest lounge offers cutting-edge cocktails and internationally-inspired small plates in a stylish and refined setting
WASHINGTON, D.C. (PRWEB) SEPTEMBER 22, 2015
A sleek and glamorous new lounge experience has been unveiled at The Ritz-Carlton, Washington, D.C. with the debut of Quadrant. Presenting a tantalizing selection of classic and cutting-edge cocktails, this sultry bar and lounge offers an innovative and luxurious approach to redefining the beverage experience in the nation's capital.
The beverage menu, anchored in a selection of classic and upscale cocktails, is led by Quadrant's lead mixologist, Christopher Mendenhall – a seasoned cocktail artisan who joins Quadrant from award-winning Washington, D.C. restaurant and bar, Westend Bistro. Mendenhall, widely celebrated for his creativity and culinarian approach to the art of cocktail making, will showcase his unique skillset at Quadrant through high concept cocktails that each tell a story, and that utilize only the finest ingredients.
"I have two visions for Quadrant," said Christopher Mendenhall, lead mixologist. "First: for it to be an educational bar, not only for myself and the staff, but also for our guests. From a portion of the cocktails to the spirits we use, it will be a place to learn and enjoy cocktails. Second: to pull from the culinary world; most of our original cocktails will not start in the bar, they will start in the kitchen. When you combine both worlds – the bar and the kitchen – the possibilities are truly endless."
Featured spirits will include unique American bourbons and whiskeys, single malts and scotches, cognacs, Armagnacs and ports. The lounge will also offer an exclusive, off-the-menu Reserve List featuring an extremely rare selection of classic spirits, discreetly passed in a sealed envelope to those guests interested.
In addition to its handcrafted cocktails, the downtown Washington, D.C. cocktail lounge offers a selection of premium and well-known wines, along with a diverse selection of Executive Chef Yves Samake's internationally-inspired small plates, ranging from artisan charcuterie and Angus beef tartar, to lamb meatballs and signature flatbreads.
The space, designed by Meyer Davis Studio, features four unique areas, two of which can be closed off for private dining. Moody and alluring, the design palette consists of faded grays and blues contrasted with strong accents of red, purple and worn leathers. Design highlights include an expansive bar with a luminous back-lit glass panel and Kenya Black stone bar top, plush banquettes and classic lounge chairs, a communal table perfect for happy hour gatherings, and a floor-to-ceiling Kenya Black stone fireplace flanked by low lit mirror shelves. A vibrant happy hour adds to the experience, as does live jazz music on Wednesday evenings from 8 p.m. to 11 p.m., featuring The Christopher Linman Jazz Ensemble.
Located on the Lobby level of The Ritz-Carlton, Washington, D.C., Quadrant is open Sunday through Thursday from 11:30 a.m. to 12 a.m., and Friday and Saturday from 11:30 a.m. to 1 a.m.
About The Ritz-Carlton Hotel Company, LLC
The Ritz-Carlton Hotel Company, L.L.C., of Chevy Chase, Md., currently operates 90 hotels in the Americas, Europe, Asia, the Middle East, Africa, and the Caribbean. More than 30 hotel and residential projects are under development around the globe. The Ritz-Carlton is the only service company to have twice earned the prestigious Malcolm Baldrige National Quality Award which recognizes outstanding customer service. For more information or reservations, visit the company web site at http://www.ritzcarlton.com, and for the latest company updates, visit news.ritzcarlton.com. The Ritz-Carlton Hotel Company, L.L.C. is a wholly-owned subsidiary of Marriott International, Inc. (NASDAQ:MAR).
###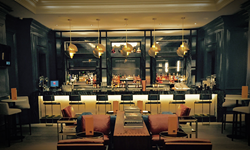 Note: We are not responsible for typo error, price change, substitute item, or available of item from online ads.

Lưu ý: Chúng tôi không chịu trách nhiệm về lỗi ấn, thay đổi giá, hàng thay thế, hoặc có sẵn mặt hàng quảng cáo.
http://www.prweb.com/releases/2015/09/prweb12958909.htm