SOURCE: prweb.com
The 40th Marine Corps Marathon will be this Sunday, October 25th, 2015, and the opening ceremony is set to include an aerial demonstration by Team Fastrax™. The team is scheduled to perform their much anticipated American Flag skydive.
WASHINGTON, DC (PRWEB) OCTOBER 23, 2015
The Marine Corps Marathon will be held Sunday, October 25th, in Washington, DC. The Marathon starts at 7:55 am, and as part of the opening ceremony, Team Fastrax™ will be performing their famous patriotic American Flag Skydive. The performance will include their amazing 5,000, 1,100 and 500 sq. ft. American Flags.
John Hart, owner of Start Skydiving, and member of Team Fastrax™ said, "We are honored to be performing at such an exciting and patriotic event. Members of Team Fastrax™ have served the United States of America as part of the Armed Forces, many in combat, so we enjoy performing at any event that honors our nation's military."
According to their website, the Marine Corps Marathon hosts a thrilling weekend of events welcoming runners, spectators and the public. The weekend kicks off with the Health & Fitness Expo featuring running products and access to experts and culminates in the 40th MCM, as 30,000 runners from all 50 states and 54 countries take to the start line.
This performance by Team Fastrax™ is sponsored by Blue Lizard Australian Sunscreen. Dermatologist-recommended Blue Lizard Australian Sunscreen delivers clinically proven broad-spectrum UVA and UVB skin protection. Team Fastrax™ is officially sponsored by Selection Management Systems, a leading provider of criminal background checks and pre-employment screening services. They are the most ambitious professional skydiving team in the world. The parachute demonstration team has a roster of more than twenty-nine active members, with a collective of more than 300,000 skydives. Team Fastrax™ has performed exhibition skydives all over the world for audiences large and small as a patriotic display or as a product promotion.
For questions or for an interview, contact Gene Newsom with Team Fastrax™ at 513-422-5867.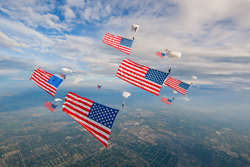 http://www.prweb.com/releases/2015/10/prweb13039005.htm