TTR Sotheby's International Realty lists 6 Kalorama Circle NW Washington, DC
WASHINGTON, DC (PRWEB) AUGUST 18, 2016
TTR Sotheby's International Realty announced its listing of 6 Kalorama Circle NW in Washington, DC.
The residence sits high on a hill in verdant Kalorama, a block between President Obama's post-White House residence and the French Ambassador's residence. It is located across the street from the oldest home in Washington, The Lindens, which sold in August 2016 for $7,100,000.
The home, long the center of Washington social life, has been held by several Washington luminaries, including J. Carter Brown III, former director of the National Gallery of Art, and Connie Mellon. It is presently owned by Aaron I. Fleischman.
The property features gracious living and grand entertaining rooms, private gardens, and a roof deck with stunning Washington views.
The list price is $5,750,000.
For more information, please contact Michael Rankin, Broker and Managing Partner of TTR Sotheby's International Realty. View the property on Sotheby's International Realty: http://www.sothebysrealty.com/eng/sales/detail/180-l-905-zbz8cd/kalorama-washington-dc-20008
The Sotheby's International Realty network currently has more than 18,800 sales associates located in approximately 835 offices in 63 countries and territories worldwide. TTR Sotheby's International Realty has been the exclusive affiliate for the Washington, DC metropolitan area since 2006. The firm currently has 300 agents with 5 offices in the region. For more information, visit http://www.ttrsir.com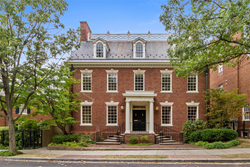 http://www.prweb.com/releases/2016/08/prweb13622211.htm