Field of Screams Maryland Rated #1 Halloween Attraction For Maryland, Virginia and Washington DC – Returns for 2016 season
Field of Screams Maryland Rated #1 Halloween Attraction For Maryland, Virginia and Washington DC – Returns for 2016 season
OLNEY, MARYLAND (PRWEB) SEPTEMBER 20, 2016
Nationally Recognized Haunted House Designer/Builder – Steelhead Events and Productions – returns for the 16th year of Field of Screams Maryland, offering two haunted trails, a haunted house, and a haunted hayride. Steelhead continues to expand its high-end brand to Scream City Washington, D.C. and Ocean City Screams in Ocean City, Maryland.
Field of Screams Maryland, the DC/Baltimore metro area's definitive haunt experience will return for it's 16th season in late September through early November in Montgomery County, MD. The Scream Park attraction includes 4 terrifying events in one location and spans 40-acres of Disney quality attractions, actors, and haunted houses.
Field of Screams Maryland is a tradition for many that has long been lauded as one of the best Halloween Haunted Attractions in the country and is the largest, most popular, and most highly rated Scream Park in Maryland, Virginia, DC and Delaware. In addition to being the Winner of A&E's National Haunted House Design/Build Competition in 2014 – it's design and management company, Steelhead Events and Productions – has been recognized as a leader in high-level immersive haunt productions. The group building and managing Field of Screams Maryland, which benefits the Olney Boys and Girls Community Sports Association and is its largest fundraiser, has an extensive offering of services in the haunt industry working with professional sports organizations and companies such as the Baltimore Ravens, Hard Rock Cafe, and A&E Network.
Field of Screams Maryland, Scream City Washington DC and now Ocean City Screams Maryland, are highly detailed and extremely scary haunted houses, trails and hayrides using carefully crafted back-stories to build the foundation of these experiences. Steelhead Events and Productions is expert at exploiting the scientific spectrum of human fears, ensuring no one escapes their attractions without being scared beyond their expectations. All three of their haunted amusements offer multiple inter-attraction activities. Field of Screams Maryland is an indoor/outdoor experience comprised of 4 unique fright areas – Trail of Terror, Haunted Trail, 3D Nightmare Haunted House and Hades' Hayride. The Paintball Apocalypse event won't be offered this year but a highly anticipated second trial has been added.
Scream City Washington, DC is completely enclosed indoors with 2 major haunted houses – the Exorcism Estate and Slaughter Factory. Concessions are available onsite. Both haunted house attractions are Smoke and Alcohol-free and NO BAGS or BACKPACKS are allowed on the property – everyone is subject to search and the company has an impeccable safety record since inception of operations in 2000. Attendees should prepare for the fright of their lives by wearing sturdy shoes that are good to run in! Scream City has offers bon fires and smokes as patrons leave the haunted houses.
In addition to scaring the life out of the attendees year after year, the hauntrepreneurs at Steelhead Productions are longtime supporters of the areas they operate in giving back a sizable portion of it's proceeds to local charity. A leader in the haunted house 'Business of Screams', these attractions create hundreds of area jobs each year providing valuable financial support to the local economies it operates in. Tickets for Field of Screams Maryland are ON SALE NOW at http://www.Screams.org and Scream City tickets go on sale shortly at http://www.ScreamCity.com – price varies by attraction.
CONT BELOW-
THE DETAILS:
Field of Screams Maryland – 4501 Olney-Laytonsville Rd Olney, MD 20832 – 30 mins from DC/Balt/NoVa
Open every Friday and Saturday Sept 18-Nov 1 and most Thursdays and Sundays
http://www.screams.org for full schedule
Scream City Washington DC – RFK – 2400 E Capitol St Washington DC 20003 1 block from Stadium/Armory Metro (RED line)
Open every Friday and Saturday Oct 2 – Nov 1 and most Thursdays and Sundays
http://www.screamcity.com for full schedule
Steelhead Productions – http://www.SteelheadEvents.com
CONTACT: Sasha-Events & Public Relations -717.676.5469 -pr(at)steelheadevents(dot)com
RESOURCES:
Authorized Photographs:
https://www.dropbox.com/sh/1e5l4lykp956ibi/AAA2kDTBnFha4pyKG-jE1mV7a?dl=0
Authorized Videos:
https://www.youtube.com/channel/UChB9dDIFCbQq8QbYMy84RgQ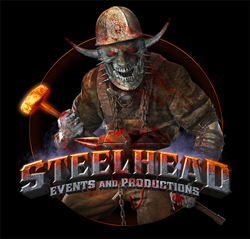 http://www.prweb.com/releases/2016/09/prweb13698345.htm