DC Government Closes for Thanksgiving
SOURCE: dc.gov
Thanksgiving Day 2016
The DC government will be closed Thursday, November 24 and Friday November 25 in observance of Thanksgiving.
City Services
Trash and Recycling Collections: Thursday's trash and recycling collections will "slide" to the next day, Friday, November 25. Friday's collections will be made Saturday, November 26. This applies to both once-a-week and twice-a-week collection neighborhoods. Trash and recycling containers should be put out for collection no earlier than 6:30 pm the night before collection and removed from public space by 8 pm on the collection day to avoid sanitation enforcement.
Parking Enforcement of expired meters, residential parking and rush hour lane restrictions will be suspended on Thanksgiving Day and on Friday, November 25. However, Streetcar parking restrictions along the H Street/Benning Road, NE corridor will be enforced BOTH days.
Read the full list of service changes for the Department of Public Works.
Parks and Recreation
All DPR facilities, centers and indoor aquatic facilities will close at 6 pm on Wednesday, November 23, 2016 and will re-open on Saturday, November 26, 2016.
All DPR facilities, centers, administrative offices and aquatic facilities will be closed on Thursday, November 24, 2016 and Friday, November 25, 2016:
– All grass fields are closed until Friday, March 17, 2017.
– All synthetic fields, playgrounds, tennis courts and basketball courts will be open.
– The permits office will be closed and no new permits will be issued on this date. All previously permitted events will take place as scheduled.
See the full press release.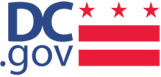 http://dc.gov/release/mytaxdcgov-otr%E2%80%99s-new-online-tax-portal-live