Smithsonian Holiday Festival: Experience the Mall with More!
SOURCE: Smithsonian
Saturday and Sunday, December 3 and 4, we invite you to celebrate the season with Smithsonian. We've got special events galore to help you get in the holiday spirit, including musical performances, book signings, trunk shows, activities for kids, and more!
Participating museums include: National Museum of American History, National Air and Space Museum, National Museum of Natural History, Sackler Gallery, National Museum of the American Indian, Hirshhorn Museum and Sculpture Garden, National Museum of African Art, and The Smithsonian Castle.
Saturday, Dec 3, 2016
Time Event Venue
10 a.m. Astronaut Food Sampling Air and Space Museum
10 a.m. Chem Art Trunk Show American History Museum
10 a.m. Dynasty Gallery Trunk Show Air and Space Museum
10 a.m. Dynasty Gallery Trunk Show Natural History Museum
10 a.m. Festive Holiday Treats American History Museum, American Indian Museum, Natural History Museum, Smithsonian Castle
10 a.m. Jewelry Trunk Show- Batucada Hirshhorn Museum & Sculpture Garden
10 a.m. Jewelry Trunk Show- Ellen Benson African Art Museum
10 a.m. Jewelry Trunk Show- Penny Diamanti Arthur M. Sackler Gallery
10 a.m. KJK Jewelry Trunk Show American History Museum
10 a.m. Meridian Jewelry- Trunk Show Natural History Museum
10 a.m. Red Canoe Trunk Show Air and Space Museum
10 a.m. Russian Connection Jewelry Trunk Show Natural History Museum
10 a.m. From Bean to Bar- Mars Chocolate Demonstration American History Museum
10 a.m. Miss Piggy Exhibit American History Museum
10 a.m. Muppets and Puppets Exhibit American History Museum
10 a.m. Toys and Childhood Exhibit American History Museum
11 a.m. In the Shop: Diamanti Designs Arthur M. Sackler Gallery
11 a.m. Trunk Show: Kyoto Kimono Arthur M. Sackler Gallery
11 a.m. Ornament Artist- Rachael Peden American History Museum
11 a.m. The Muppet Christmas Carol American History Museum
11:25 a.m. The Polar Express: IMAX 3D Presentation Natural History Museum
12 p.m. Gift Wrapping Station American History Museum
12 p.m. Spirit Activewear Trunk Show American History Museum
12 p.m. Book Signing: Nedda Thomas Air and Space Museum
12 p.m. U.S. Air Force Band High Flight Performance American History Museum
12 p.m. Open Studio: Layering Light and Color Arthur M. Sackler Gallery
1 p.m. The Muppet Christmas Carol American History Museum
1 p.m. Book Signing: In Julia's Kitchen American History Museum
1 p.m. Book Signing: Kenneth C. Davis American History Museum
1 p.m. Book Signing: Midcentury Christmas
1 p.m. U.S. Air Force Band High Flight Performance American History Museum
2 p.m. Book Signing: Rashin Arthur M. Sackler Gallery
2 p.m. U.S. Air Force Band High Flight Performance American History Museum
2 p.m. Meet Joseph Henry: The Smithsonian's First Secretary Smithsonian Castle
3 p.m. The Muppet Christmas Carol American History Museum
4:15 p.m. The Polar Express: IMAX 3D Presentation Natural History Museu
Sunday, Dec 4, 2016
Time Event Venue
10 a.m. Astronaut Food Sampling Air and Space Museum
10 a.m. Chem Art Trunk Show American History Museum
10 a.m. Dynasty Gallery Trunk Show Air and Space Museum
10 a.m. Dynasty Gallery Trunk Show Natural History Museum
10 a.m. Festive Holiday Treats American History Museum, American Indian Museum, Natural History Museum, Smithsonian Castle
10 a.m. Jewelry Trunk Show- Ellen Benson African Art Museum
10 a.m. KJK Jewelry Trunk Show Hirshhorn Museum & Sculpture Garden
10 a.m. Meridian Jewelry- Trunk Show Natural History Museum
10 a.m. Red Canoe Trunk Show Air and Space Museum
10 a.m. Russian Connection Jewelry Trunk Show Natural History Museum
10 a.m. From Bean to Bar- Mars Chocolate Demonstration American History Museum
10 a.m. Miss Piggy Exhibit American History Museum
10 a.m. Muppets and Puppets Exhibit American History Museum
10 a.m. Toys and Childhood Exhibit American History Museum
10 a.m. Meet Joseph Henry: The Smithsonian's First Secretary Smithsonian Castle
11 a.m. The Muppet Christmas Carol American History Museum
11:25 a.m. The Polar Express: IMAX 3D Presentation Natural History Museum
11:30 a.m. Book Signing: Of Arms and Artists: The American Revolution Through Painters' Eyes American History Museum
12 p.m. Gift Wrapping Station American History Museum
12 p.m. Book Signing: Cookbook author Nancie McDermott American History Museum
12 p.m. Book Signing: Mary Quattlebaum Natural History Museum
12 p.m. U.S. Air Force Band High Flight Performance American History Museum
12 p.m. Open Studio: Layering Light and Color Arthur M. Sackler Gallery
12 p.m. Exploring Peacock Room Remix with Darren Waterston and BETTY Arthur M. Sackler Gallery
1 p.m. The Muppet Christmas Carol American History Museum
1 p.m. Book Signing: The Spy Who Couldn't Spell American History Museum
1 p.m. U.S. Air Force Band High Flight Performance American History Museum
2 p.m. U.S. Air Force Band High Flight Performance American History Museum
3 p.m. The Muppet Christmas Carol American History Museum
4:15 p.m. The Polar Express: IMAX 3D Presentation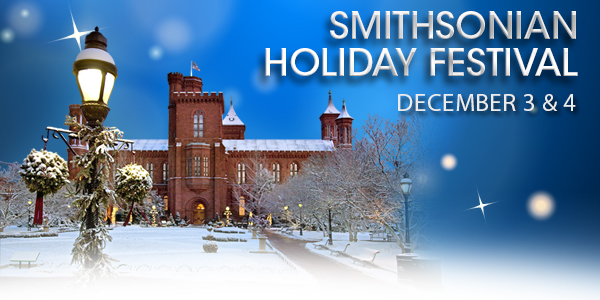 http://www.si.edu/Events/Calendar/?trumbaEmbed=view%3Dseries%26seriesid%3D1106471