SOURCE: dc.gov
Wednesday, December 14, 2016
Temperatures expected to drop In coming days
(Washington, DC) – In preparation for what forecasters are predicting to be a long, cold winter, and with extreme cold expected over the next few days, Mayor Bowser is urging residents to prepare early for winter weather.
"With temperatures expected to drop in the coming days, now is a great opportunity for District families to think through safety plans for the long winter ahead," said Mayor Bowser. "We are encouraging everyone to prepare early for winter weather, and remember our most vulnerable neighbors who may need assistance in the coming days and beyond."
Winter storms can include extreme cold, high winds, freezing rain, sleet, and/or snowfall. Severe winter storms can cause blocked roads, downed power lines, power outages, transportation accidents and loss of life. To prepare for winter storms, residents are encouraged to heed the following suggestions:
For Your Family
Make a family emergency plan. Your family members may not all be in one place when a winter event occurs. It is important to know how you will contact one another, how and where you will meet, and what you will do in case of an emergency. Plan how to communicate if you lose power, and keep a list of family members' phone numbers along with other important numbers that may be needed during an emergency.
Charge your cell phone so you have a full battery. Consider buying a solar or battery powered phone charger.
Have all prescription and other medications in full supply for family members and pet(s).
Stock up on fresh bottled water and food that does not need to be cooked, along with a manual can opener.
If going outside, dress for the weather. Wearing several layers of loose fitting, lightweight, warm clothing is better than wearing one layer of heavy clothing.
For Your Home
Keep flashlights, extra batteries, and a first-aid kit accessible.
Ensure that worn out shovels are replaced.
While shopping, stock up on deicer, rock salt or non-clumping kitty litter to put on steps and sidewalks before a storm starts. Early application of these abrasives makes clearing snow/ice easier after a storm ends.
Refuel kerosene heaters outside and keep them at least three feet from flammable objects.
Keep water faucets open to a slow drip.
Remove any dead, broken, or rotting tree branches that could fall during a winter/ice storm.
For Your Car
Keep kitty litter on hand to provide traction when cars get stuck in snow or ice.
Keep scrapers, blankets, flashlights and a charged mobile charger inside vehicles.​
"The earlier you prepare for extreme weather, the better," advised DC Homeland Security and Emergency Management Agency Director Chris Geldart. "When extreme weather hits DC, you want to be confident that you and your family are prepared for whatever comes our way."
Seniors can get connected to needed services by calling the DC Office on Aging at (202) 724-5626. And residents can help the District keep everyone safe by contacting the Shelter Hotline to report a person experiencing homelessness who may be impacted by extreme temperatures. Reach the hotline by emailing uposh@upo.org or calling (202) 399-7093 or 311.
Advance preparation can make dealing with winter weather easier, safer, and less stressful. Find more information at snow.dc.gov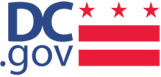 http://dc.gov/release/mayor-bowser-urges-residents-prepare-early-winter-weather