SOURCE: Atlas Fitness
Proceeds Support Campaign Promoting Diversity and Inclusion in U.S.
WASHINGTON, DC (PRWEB) DECEMBER 15, 2016
The Center for Global Policy Solutions (CGPS), a DC think tank and action organization, has launched its Inclusion Revolution store, offering a variety of products that promote and support the organization's campaign advocating for a diverse and inclusive society where everyone belongs.
The store's five collections include branded social wear—shirts and hats—for men, women, children and infants as well as home goods such as pillows, coffee mugs, and totes. Proceeds from sales will support the Inclusion Revolution, a movement to combat fear and hate by building bridges that bring all Americans together.
The core of the movement is the Declaration of Inclusion, a set of seven principles that should guide how Americans are represented and how we interact with each other. The Declaration centers on the belief that our nation's diversity is its promise, not its problem.
"We are excited to offer quality goods that make both a fashion and a social statement," said Dr. Maya Rockeymoore, CGPS President. "When you wear the Inclusion Revolution brand, you are taking a stand for civility and respect while demonstrating you value our nation's diversity."
So far, more than 250 people, including prominent lawmakers and educators, have signed the Declaration of Inclusion, signaling their support for its principles. CGPS encourages everyone who believes in the vision to add his or her name to the Declaration of Inclusion.
"We invite those who purchase Inclusion Revolution clothing and home goods, and even those who don't, to share their photos on social media with the hashtag #InclusionRevolution," said Dr. Rockeymoore.
"We want all supporters, whether they make a purchase or not, to spread the word as proceeds go toward supporting the Inclusion Revolution campaign, an effort to achieve a diverse, inclusive, and fair society in the United States through policy analysis, research, education, and advocacy."
###
Founded on the principle that a more inclusive nation is a stronger, more prosperous one, the Center for Global Policy Solutions (CGPS) is a 501(c)(3) that equips businesses and organizations with the tools to effect change, driving society toward inclusion. Drawing on our unique blend of policy and advocacy expertise, CGPS develops strategies, research, programs, policies, and communications that address disparities in health, education, and economic security by race/ethnicity, place, gender, and age.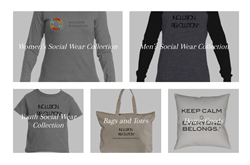 http://www.prweb.com/releases/2016/12/prweb13931091.htm
Note: We are not responsible for typo error, price change, substitute item, or available of item from online ads.
Lưu ý: Chúng tôi không chịu trách nhiệm về lỗi ấn, thay đổi giá, hàng thay thế, hoặc có sẵn mặt hàng quảng cáo.