SOURCE: DANZEOFF
From nationally acclaimed three-time Tony Award winner Hinton Battle, in association with Yoshimoto, comes the 1st Annual DANZEOFF 2017 Convention Competition. DANZEOFF "the newest dance convention competition on the circuit."
WASHINGTON, D.C. (PRWEB) DECEMBER 23, 2016
From nationally acclaimed three-time Tony Award winner Hinton Battle, in association with Yoshimoto, comes the 1st Annual DANZEOFF 2017 Convention Competition. DANZEOFF, "the newest dance convention competition on the circuit," takes place Friday, February 3 – Sunday, February 5, 2017 at the Gaylord National Hotel, Washington, D.C. A spectacular dance event that features more than forty (40) top dance studios, collegiate teams, and dance artists from all over the United States competing in one of the largest annual dance competitions in the Washington, D.C., Maryland, Virginia (DMV) area.
DANZEOFF will reveal the talents of both local and visiting dance artists in events in all genres of dance. It is designed to support young aspiring dancers, pre-professional performing artists, honor them for their accomplishments in the exciting world of dance, and provide a positive dance competition experience. There will be five (5) different levels of competition, ranging from minis (age 6-8) to pre-professionals (age 18-up). Winning performances receive cash prizes and awards, while obtaining instant critical feedback from expert judges, making DANZEOFF a learning tool for performers and a showcase of talent.
DANZEOFF is a leader in the dance workshop industry bringing together master teachers from around the world in ballet, contemporary, hip hop, jazz, lyrical, modern, musical theater, step, and tap. DANZEOFF will be the catalyst and training ground for many dancers who seek professional careers in dance from New York theatre to Las Vegas stages, television, and touring circuit, to the motion picture industry. Our vision is to provide a wealth of opportunities that will enable dancers to reach the "next level" and attain their highest achievements.
The celebrity judging panel, whose members are among the most celebrated in dance worldwide, include Hinton Battle,Debbie Allen, Savion Glover, Danielle Polanco, Alexandre Proia, Janelle Ginestra, Djuan Ballinger, and Adrienne Dellas Thornton
"DANZEOFF values dedication, hard work and committed dancers that devote time to their craft. I am extremely excited and proud to present the DANZEOFF 2017 Convention Competition to the Washington, D.C. area. This unique convention competition brings my friends, the best faculty from around the world to teach and inspire those studying dance. DANZEOFF provides that rare opportunity to be seen by professional theatrical agents. The convention competition provides an excellent opportunity for families, teachers, and the public to watch and experience first hand. Amateur and pre-professional dancers of all levels will bring their best, to compete for amazing scholarships, cash prizes and awards," states Battle.
DANZEOFF invites the general public to attend the competition. A warm invitation is extended to the DMV dance community and general public. Online registration for discounted rates is through December 31. For more information on the convention competition, please visit the website at http://www.danzeoff.com or call (888) 275-7870.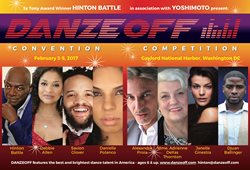 http://www.prweb.com/releases/2016/12/prweb13943958.htm