Signature Kitchens Additions & Baths a Design Build Firm in Rockville MD offer some sage advice after working with a young professional couple buying a DC row house in historic Woodley Park. Like many they contend with prior generations of shoddy workmanship and older generations of plumbing, electrical and mechanical equipment.
WASHINGTON DC (PRWEB) APRIL 14, 2017
Sometimes the worst owner of a house is the last owner, especially if they had no passion for their own renovation efforts or not enough capital to do proper work. Either may have been the case with a 2400 square foot row house in affluent Woodley Park Washington DC. The house is located on Klingle Road. Woodley Park has an interesting history; it was originally part of a 250 acre purchase made by the Uncle of Francis Scott Key. Yes, that fellow who wrote the Star Spangled Banner. Of course, there have been quite a few owners since the house was built in 1923. So we might not be able to blame the condition of its bathrooms on the last owner.
The house was recently purchased in 2013 by a young professional couple who came to work in the Nation's Capital. Like so many buyers in the District of Columbia over the last decade they purchased a house that had been generally neglected for 4 decades. Four generations of plumbing, electrical and mechanical equipment, often in conflict.
Signature Kitchens Additions & Baths of Rockville MD, a design build remodeling company, was approached by the owner to design and renovate the master bathroom. Senior designer Hamid Fadakar described the bathroom as "a dingy impractical space dominated by a soaking tub that basically soaked up all of the room. It was a bad remodel with shoddy workmanship."
Hamid and the new owners tackled their bathroom renovation with great enthusiasm. The new bathroom design is layers of White Carrara Marble. The floor a classic Carrara and gray dot pattern over a Warmly Yours heated floor. The walls selected were MS International 12" by 24" slabs of Carrara marble laid horizontally with a tight grout line. Niches were added in the shower and a wall embellished with an Amba heated towel warmer. As the owner said, "my new born baby simply loves being wrapped in a heated towel. It was a luxury but so worth it." The shower was wrapped in frameless glass doors. The bathroom vanity selected is a furniture piece within Dura Supreme Cabinetry's Vanity Furniture offering. The counter top selected was also Carrara Marble which was fabricated as banjo top covering the toilet and providing more counter top space. A large tri-fold mirror was installed and then the abutting wall was mirrored to create very spacious feel with the reflection of all that marble. The decorative plumbing used in this beautiful bathroom renovation was Kohler Margaux.
Signature Kitchens Additions & Baths owner Gary Case advises the young and the old moving into the city purchasing a DC row house "Do more than just get the home inspected as most Realtors suggest. Our advice is that you insist on a concurrent feasibility study to remodel the bathrooms and kitchen. For example another customer of ours added the following contract clause – This contract offer is subject for ten days to a feasibility study acceptable to the purchaser to renovate the bathroom(s) and or remodel the kitchen. If purchaser finds the results of the feasibility study unacceptable they may declare this contract null and void by giving such notice to their agent. Absent such notice within ten day the contract will remain in full force and effect."
Gary Case continued "If the time frame for a clause like this is running concurrent to the home inspection the owner has the same risk as the home inspection i.e. the buyer will declare the contract null and void." You the buyer should then meet in this time frame with a competent design build firm who should let you know what is possible and approximately how much it will cost. "Believe me the Realtors estimate of a new kitchen, addition or bathroom is not high enough ninety percent of the time."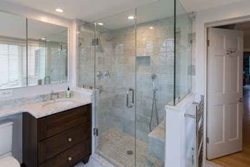 http://www.prweb.com/releases/2017/04/prweb14245112.htm