SOURCE: DC Mayor's Office on Asian and Pacific Islander Affairs
WHAT: Miss Granny (Korean with English subtitles)
WHEN: Wednesday, June 14, 2017 from 7:30 PM to 10 PM
WHERE: Chinatown Park, I Street Northwest, Washington, DC 20001
DESCRIPTION
The Mayor's Office on Asian and Pacific Islander Affairs invites you to join us in Chinatown Park for this summer's Asian and Pacific Islander-themed movie line up.
Movie Schedule
June 14, 2017 from 7:30 – 10:00 PM: Miss Granny (Korean with English subtitles)
July 12, 2017 from 8:00 – 10:00 PM: Moana (English)
August 16, 2017 from 8:00 – 10:00 PM: Lion (English)
September 29, 2017 from 7:30 – 10:00 PM: Mulan (English)
Movies will be screened as soon as it gets dark (estimated at 8:15 – 8:30 PM). Guests are asked to bring their own blankets, chairs and bug spray if needed. There will be a portable restroom on site.
The events are free and open to the public. Popcorn and popsicles will be provided.
Any changes or cancellations due to weather will be posted on MOAPIA's social media accounts (Facebook, Twitter, Instagram: @dcmoapia)
If you would like to request more information or reasonable accomodations, please contact MOAPIA at (202)-727-3120 or oapia@dc.gov.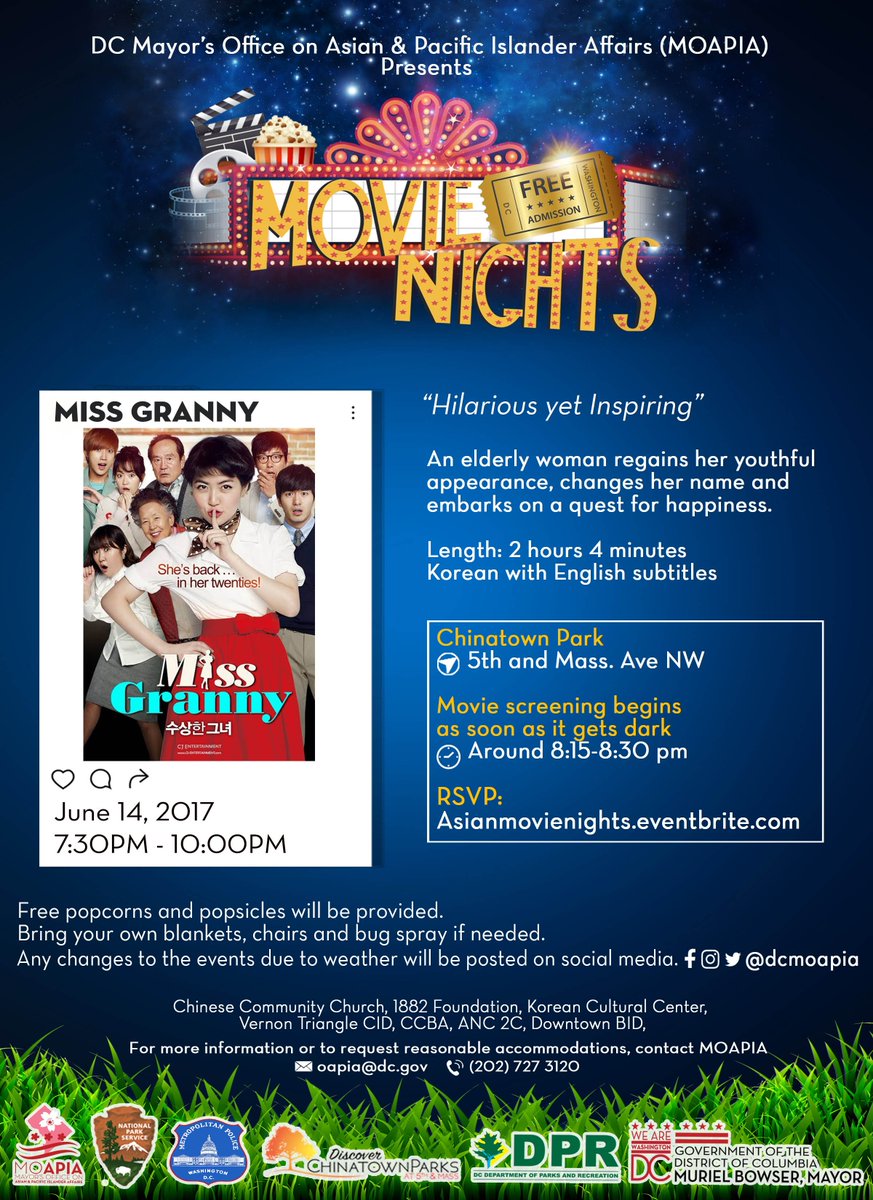 Register:
https://www.eventbrite.com/e/movie-nights-in-chinatown-park-tickets-35023578466