ACM 50th Anniversary Kwanzaa Celebration with Nana Malaya Rucker, "The Dancing Diplomat & Nubian"
SOURCE: Smithsonian Institution
WHAT: ACM 50th Anniversary Kwanzaa Celebration
WHEN: Tuesday, December 26, 2017 from 11 AM to 1 PM
WHERE: Fort Stanton Recreation Center, 1812 Erie St SE, Washington, DC 20020
This exciting family program combines the masterful skills of dance, music, storytelling and more by Nana Malaya Rucker, "The Dancing Diplomat" with plenty of audience participation and African percussive instruments. The program includes introducing the audience to the history of Kwanzaa, its seven guiding principles and associated symbols, songs, dances and customs.
Since the age of 16, Rucker has brought African-centered folklore to life through spoken word and dance. Her craft for telling stories in this manner has taken her around the world. This program is FREE and open to everyone!
Program will take place at the Fort Stanton Recreation Center, located one block from the museum at 1812 Erie Street SE, Washington, DC.
Note: The first 50 Smithsonian employees who arrive and show a valid ID badge will receive a unique ACM 50th Anniversary Commemorative Coin.
See Nana Malaya Rucker performing Funga Alafia at the Kennedy Center, Washington, DC: https://www.youtube.com/watch?v=GTegkMJq15M
Register online or call 202.633.4844.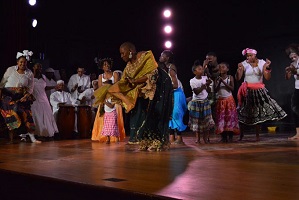 http://anacostia.si.edu/Events#/?i=1