Mayor Bowser: 'DC Is Open' if Federal Government Shuts Down
SOURCE: dc.gov
Friday, January 19, 2018
Looming Federal Government Shutdown Will Not Create Service Changes for District Residents, Businesses, or Visitors
(WASHINGTON, DC) – Mayor Muriel Bowser today vowed to keep the District open in the event of a Federal Government shutdown. The Mayor was joined by Deputy City Administrator Kevin Donahue, Department of Public Works (DPW) Director Chris Shorter, and a delegation of DC Government agency leaders.
"Leadership is about stepping up, not shutting down," said Mayor Bowser. "Shutdown or no shutdown – DC is open."
As part of the District's plan to remain open during a federal government shutdown, the Department of Public Works will take over litter collection for the National Parks Service's (NPS) 126 properties across the District that would otherwise not be serviced during a shutdown. In the event of inclement weather, DPW would also treat and clear NPS roadways.
"People from across the nation and around the world come to visit Washington, DC, our nation's capital," said Director Shorter. " We take great pride in our city and want to ensure that it's clean and looks its best, regardless of what's happening at the federal level."
Though Congress approved the District of Columbia budget, that approval did not make the District vulnerable to federal shutdowns. Thanks to the efforts of Congresswoman Norton, the District enjoys "shutdown protection" so that local operations may continue.
As part of the District's preparation for a potential government shutdown, each agency has reviewed funding sources and guidance provided by their federal agencies and has reported that there will be no service changes or lapse in benefits caused by the looming shutdown. Agencies that provide critical social services will share guidance to their clients about continued service during the shutdown.
Through the DC Department of Human Services, ongoing services will include assistance provided through the Supplemental Nutrition Assistance Program (SNAP), Temporary Assistance to Needy Families (TANF), and Medicaid. If Federal Government funding is not restored within 30 days, the District will notify customers of any potential impacts to their benefit payments. Residents who have specific questions are encouraged to contact the ESA Call Center at (202) 727-5355.
Thus, for time being, residents who depend on federally-supported benefits for the medical care, food, and other critical services can and should continue to see their doctors, take their medicines, and buy groceries for their families.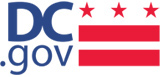 https://dc.gov/release/mayor-bowser-dc-open-if-federal-government-shuts-down