SOURCE: prweb.com
Join Array Architects to "Mind the Gap" between what is learned in school and in a professional studio. Mind the Gap is intended to introduce architecture students and professionals to healthcare architecture through education and practice while creating a dialogue among practitioners and educators.
PHILADELPHIA, PA (PRWEB) FEBRUARY 21, 2018
For the second year, Array Architects will host a professional development event, Mind the Gap, in Washington, DC. The intent behind hosting Mind the Gap is to introduce architecture students and professionals to healthcare design through a series of professional presentations and a panel discussion to encourage a dialogue among event attendees.
This event, scheduled for Saturday, April 7, 2018, will be hosted at the Herman Miller Showcase at 900 G Street, NW, Suite 100 in Washington, DC from 10:00am – 2:00pm. Attendance is complementary, and registration is available at Array's website. Space is limited, register soon!
During the event, attendees will gain a better understanding of what it means to be a professional in the healthcare design industry as well as what job opportunities are available. Array also seeks to address misconceptions that studio-based creativity ends after graduation and define the necessary skills needed to succeed in the design industry. Some of our invited speakers and sponsors include Baskervill, Children's National Health System, CRTKL, SmithGroup and Wilmot Sanz.
The event planning team from Array includes many staffers from the DC and Philadelphia offices, and they look forward to welcoming attendees and sponsors alike. Jennifer Matthews, an architectural designer with Array, developed the concept for this event in 2016 after speaking at the annual American Institute of Architects Conference and with colleagues about university outreach initiatives. The Conference panel discussion assisted Jennifer with determining the gaps existing between graduates and seasoned practitioners during the initial phases of an emerging professional's career as well as their continued growth. As one crucial component to professional development, mentorship is a valuable key to success, and events such as Mind the Gap allows Array to begin minimizing gaps which distance our young professionals from the profession itself.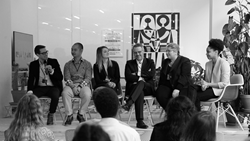 http://www.prweb.com/releases/2018/02/prweb15224240.htm