SOURCE: DC.gov
Thursday, May 24, 2018
DPR Customer Service: (202) 673-7647
DPR Media Contacts:
Michael Tucker Jr., (202) 717-4242, michael.tucker@dc.gov
Gregory Jackson Jr., (202) 714-9550, gregory.jackson4@dc.gov
(WASHINGTON, DC) – On Friday, May 25, at 4 pm, Mayor Muriel Bowser and the Department of Parks and Recreation (DPR) invite DC residents and city officials to "Jump in DC," a celebration of the official beginning of the 2018 summer outdoor pool season at Randall Recreation Center. Who will jump in the pool this year? You will have to come see.
This annual pool party will include live entertainment, food, FITDC boot camp, aqua kickboxing, giveaways, a live broadcast by 93.9 WKYS and the ceremonial jumping into the pool.
Outdoor aquatic facilities will officially open on Saturday, May 26 at 11a.m. Outdoor pools have new hours opening an hour earlier, 11 am to 6 pm from Saturday, May 26, through Memorial Day Monday, May 28. Pools then remain open on a weekend-only schedule (Saturday and Sunday) through June 17. Starting June 18, all outdoor pools will operate on individual summer schedules. All Spray Parks open Saturday, May 26th and operate daily, thereafter, from 10 am – 8 pm.
The Department of Parks and Recreation's aquatic inventory includes 19 outdoor pools, 11 indoor pools, 23 spray parks and three children's pools. For more information on the summer outdoor pools' schedule, visit: https://dpr.dc.gov/page/outdoor-pools
WHEN:
Friday, May 25, at 4 pm
WHO:
Ahnna Smith, Interim Deputy Mayor of Education
Greer Gillis, Director, DC Department of General Services
Keith A. Anderson, Director, DPR
Charles Allen, Ward 6 Councilmember
Special Guest
Angie Ange, Radio Personality, 93.9 WKYS
WHERE:
Randall Recreation Center (Ward 6)
South Capitol & I Streets, SW, Randall Pool
*Closest Metro: Navy Yard- Ballpark Metro Station*
For more information or to RSVP for kick-off event visit DPR.events. Follow the hashtag #JumpInDC.
About DPR
The DC Department of Parks and Recreation (DPR) provides quality urban recreation and leisure services for residents and visitors to the District of Columbia. DPR supervises and maintains area parks, community facilities, swimming pools and spray parks, and neighborhood recreation centers. The agency also coordinates a wide variety of recreation and educational programs including sports leagues, youth development, therapeutic recreation, aquatic programming, outdoor adventure, camping, and senior citizen activities. Adaptive programs and facilities are available for persons with disabilities.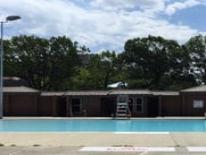 https://dc.gov/release/jump-dc-2018-outdoor-pool-opening-kick