DPW Trash and Recycling Collections to Begin at 6 am Throughout Summer
SOURCE: DC.gov
Wednesday, June 27, 2018
Earlier collection time in effect from July 3—September 3
(Washington, DC) Summer has arrived in the District and so has the hot weather. With this in mind, trash and recycling crews from the Department of Public Works (DPW) will be starting their daily collection routes one hour earlier at 6 am, beginning Tuesday, July 3. The earlier collection time will remain in effect for the entire summer, ending Monday, September 3.
"With summer temperatures often climbing above 90°, we want to give our crews the ability to start a little earlier in the day when it's cooler," said DPW Director Chris Shorter. "By starting collections earlier throughout the full summer, our goal is to make things simpler for the residents we serve."
To make sure trash and recycling are out for pick-up at the earlier time, DPW's customers can put their items out starting at 6:30 pm the day before their collections are to be made. Trash and recycling containers should be removed from public space by 8 pm on the collection day or a sanitation citation may be issued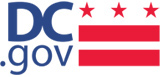 https://dc.gov/release/dpw-trash-and-recycling-collections-begin-6-am-throughout-summer