SOURCE: DC.gov
Monday, October 1, 2018
Outdoor Viewing Party to Include Broadcast of Banner Raising Ceremony and Capitals' Home Opener Outside of Capital One Arena
(WASHINGTON, DC) – On Wednesday, October 3, Mayor Bowser will join Monumental Sports & Entertainment to celebrate the 2018 Stanley Cup Champion Washington Capitals with an outdoor viewing party that includes a live broadcast of the championship banner raising ceremony and the first home game of the new season. To accommodate and include the broad and robust Capitals' fan base in this event, the outdoor video board at G Street and 7th Street, NW will show the ceremony and game against the Boston Bruins.
In addition to the live broadcast, the Rock The Red Carpet event, open and free to the public, will begin at 4:45 p.m. on F Street, NW to cheer on Washington Capitals players as they arrive at Capital One Arena.
The pre-game ceremony will begin at 7 pm, ahead of the start of the game. For more information, visit: https://dccelebratesstanleycup.eventbrite.com
Mayor Bowser will also proclaim Wednesday, October 3, 2018 as Rock the Red V.2 Day and encourages all fans to wear red in support of the Stanley Cup Champions.
Traffic and Parking Enforcement:
In order to facilitate this event, there will be no vehicular traffic in the blocks around the Capital One Arena listed below. The closures will begin on Wednesday, October 3 at 5:30 p.m. Information is subject to change based on prevailing conditions.
F Street, NW from 6th Street to 7th Street, NW (2:30PM to 10:30 pm)
G Street, NW between 7th Street and 9th Street (accessible only to local residents and monthly parking pass holders)
8th Street, NW, between G and H Streets, NW
Traffic Restrictions:
From 5:30 pm. until 10:30 pm:
G Street from 7th Street – 9th Street, NW
8th Street from G Street to H Street, NW
F Street from 6th Street – 7th Street, NW
8th Street from G Street to H Street, NW
Parking Restrictions:
From 12 am until 2 am:
No parking on G Street, NW between 7th Street and 9th Street
No parking on F Street, NW between 6th Street and 9th Street
7th St between E Street and H Street
All vehicles that are parked in the area and in violation of the emergency no parking signs will be ticketed and towed. These vehicles will be relocated to legal spaces. Motorists whose vehicles are towed should call (202) 541-6083.
Bike Access:
Capital Bikeshare stations will be closed at 6th and F Streets, NW and 7th and F Streets, NW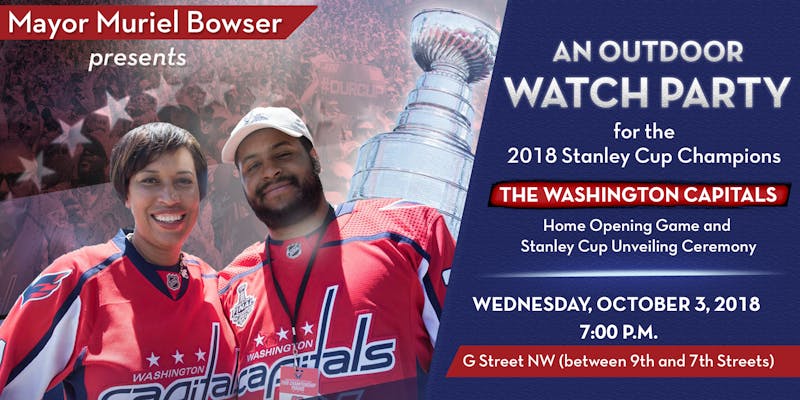 https://mayor.dc.gov/release/mayor-bowser-celebrates-2018-stanley-cup-champion-washington-capitals-season-opener-first