SOURCE: The Office of the Deputy Mayor for Planning and Economic Development
Deputy Mayor for Planning and Economic Development Brian Kenner invites you to DC ECON UNPLUGGED, an event that connects YOU to DC's economic development.
From arts to housing, transportation to environment, come get connected to the services and resources that grow DC's economy!
At this event:
Meet your DC economic development leaders and agencies
Ask questions about housing, small business, transportation and more
Enjoy DC music, arts and food tastings
Programming Highlights
Live art from Decoy and Alex Goldstein from The Fridge, DJ Stylus and 93.9's WKYS Angie Ange plus so much more
4:20 p.m.
Panel: Elevating the DC fashion economy
Join the District of Columbia's fashion leaders and hear about how they are working to elevate the District's creative economy and how fashion entrepreneurs are building brands around DC's fashion ecosystem.
Speakers:
Kristopher Johnson-Hoyle, Editor, Chairman of the Mayor's Commission on Fashion, Arts and Events (CFAE)
Deidre Jefferies, Owner/Creative Director of ESPION Atelier, CFAE Commissioner
Mariessa Terrell, Fashion Attorney, Howard Law School IP Law Clinic Supervising Attorney, and CFAE Commissioner
Roquois Clark, Co-Creative Director, District of Fashion Runway Show, DowntownDC BID
5:00 p.m.
Performance by Crush Funk Brass Band
5:30 p.m.
Panel: Keeping DC Nightlife Thriving
DC is known for its busy daytime and vibrant nightlife. Hear from the leaders in the Bowser Administration who are making sure the nightlife scene continues to strengthen DC's economy.
Speakers:
Ernest Chrappah, Interim Director of DCRA
Shawn Townsend, Director of Nightlife and Culture
Fred Moosally, Director of ABRA
Jeff Marootian, Director of DDOT
6:00 p.m.
Performance by singer Laura Tsaggaris
6:30 p.m.
Performance by Hung Tao Choy Mei Dancers
Participants include:
Office of the Deputy Mayor for Planning and Economic Development (DMPED)
Alcoholic Beverage Regulation Administration (ABRA)
DC Commission on the Arts and Humanities (DCCAH)
DC Office of Planning (OP)
Department of For-Hire Vehicles (DFHV)
Department of Consumer and Regulatory Affairs (DCRA)
Department of Energy and Environment (DOEE)
Department of Housing and Community Development (DHCD)
Department of Insurance, Securities and Banking (DISB)
District Department of Transportation (DDOT)
Department of Small and Local Business Development (DSLBD)
Office of Cable Television, Film, Music and Entertainment (OCTFME)
Real Property Tax Appeals Commission (RPTAC)
DC Housing Authority (DCHA)
DC Housing Finance Agency (DCHFA)
Office of the Tenant Advocate (OTA)
Department of Employment Services (DOES)
Department of General Services (DGS)
Office of the Chief Technology Officer (OCTO)
Office on Public Private Partnerships (OP3)
Mayor's Commission on Fashion, Arts and Events (CFAE)
Washington DC Economic Development Partnership (WDCEP)
DC Chamber of Commerce
Capital Area Asset Builders
Washington Area Community Investment Fund
Trinity Washington University
DC makers
Sweet Mossie's
Sweetdele's Sweet Treats
Good Food Market
PINKES Eats
Reese's Catering
Dur Doux
Hero Heads
Femme Fatale DC
Kyra's Kreations
Auset's Originals Gemstones & Glass Jewelry
Bailiwick Clothing
Moonrock Digital
Habeebah's Herbals
Freresbranchiaux
Morning Portal Design
For reasonable accommodations or additional information please contact (202) 727-6365 or e-mail kathryn.hartig@dc.gov to make the request no later than five business days before the event.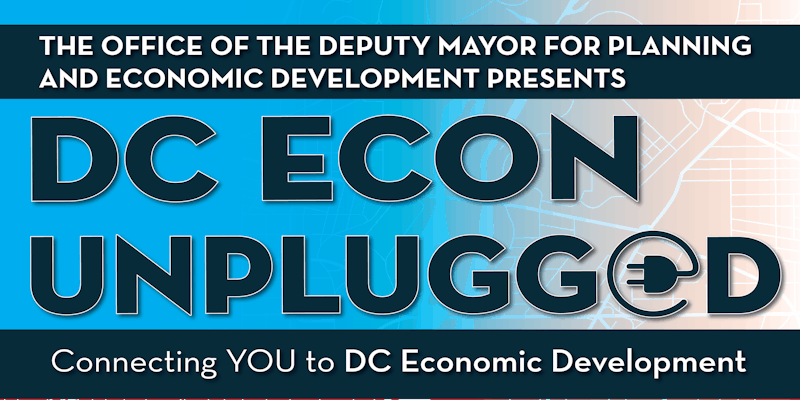 https://www.eventbrite.com/e/dc-econ-unplugged-tickets-54669863032