SOURCE: Cultural Tourism DC and National Cherry Blossom Festival
WHAT: SAKURA TAIKO TAKEOVER
WHEN: Friday, April 5, 2019 from 11 AM – 5 PM
WHERE: ANA Stage at Tidal Basin in Washington, D.C.
Friday, April 5 is A Global Preview of #PassportDC at the ANA stage on the Tidal Basin from 11 a.m. to 5 p.m. Enjoy a showcase of international performances from individuals and groups performing from around the world, including Bulgaria, Peru, Sri Lanka and more. Look and linger by the cherry blossom trees.
At 11 AM hear Orfeia, a female vocal ensemble dedicated to preserving and sharing traditional music from Eastern Europe, onstage at the Tidal Basin. Their songs reflect the rich musical heritage of Bulgaria, Macedonia, Russia and their neighbors.
At noon, take a lunch break and listen to the music of renowned Azerbaijani violinist Rafael Javadov as he plays international tunes and a dancer moves to his rythms. Noon on the ANA Stage at the Tidal Basin.
At 1:00 PM, sample Fiesta Asia with a showcase of Asian Culture steeped in vibrant and colorful musical performances and dances from Malaysia, Philippines and elsewhere.
At 2:00 PM enjoy traditional dances from southwest Cameroon as women in traditional ensembles of colorful fabrics and steel-and-wood jewelry sway and shake to the music.
At 3 PM, sway with dancer Sonali Weerasinghe as she performs the folk dance ""Govi Geethaya."" The dance depicts the scenery of a Sri Lankan village — its cultivated paddy fields, chirping birds, and the happy ladies of the village.
Celebrate spring with youths from Uzbekistan who will prefrom three national spring dances on stage at the Tidal Basin. #PassportDCPreview
At 4 PM, hear traditional Peruvian dances and music on the ANA Stage at the Tidal Basin.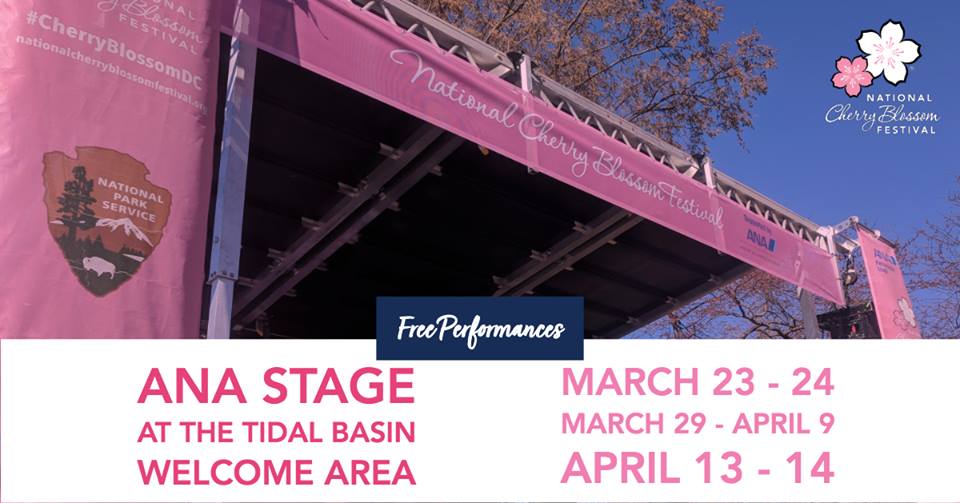 https://nationalcherryblossomfestival.org/event/sakura-taiko-takeover/