SOURCE: Smithsonian's Freer Sackler and 4 others
WHAT: Fridays at F|S: Cherry Blossom Edition
WHEN: Friday, April 12, 2019 from 5 PM – 9 PM
WHERE: Smithsonian's Freer Sackler, 1050 Independence Ave SW, Washington, DC 20
Celebrate the 2019 National Cherry Blossom Festival at this special (and free) after-hours event! Get an unexpected view into Japanese culture through musical performances, art making, and exclusive curator-led exhibition tours. The musical collective Coupler will create an ambient backdrop to the evening as you sample unique flavors by local favorite Daikaya and craft cocktails, all available for purchase. At 7:30 pm, catch the silent film Dragnet Girl, Japanese filmmaker Yasujiro Ozu's psychologically complex gangster tale, scored live by Coupler.
Activities include:
• 5–7 pm: live music by Coupler
• 5–9 pm: food and drinks available for purchase, including a cash bar
• 5–9 pm: explore the Freer galleries and make a cherry blossom-inspired creation with artists from Pyramid Atlantic Art Center
• 5:30, 6:30, and 7:30 pm: curator-led tours
• 7:30 pm: screening of Dragnet Girl, with a live score by Coupler.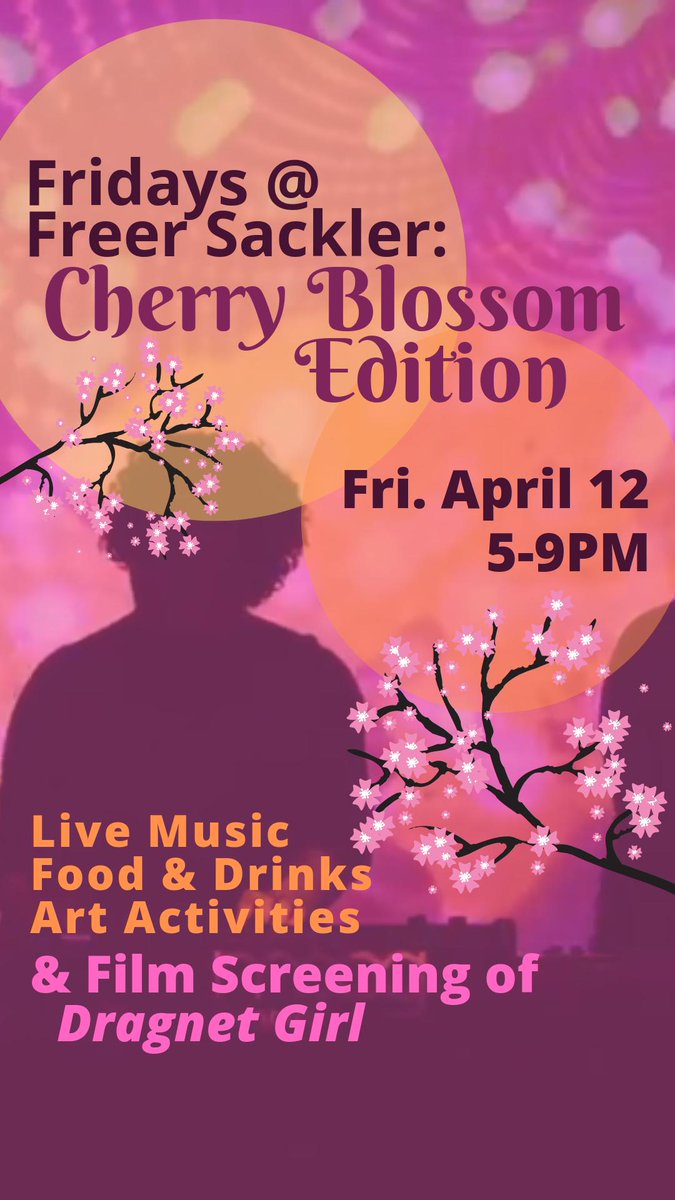 https://www.facebook.com/events/793583887692249/