Metro preliminary service information for July 4, 2019
SOURCE:Washington Metropolitan Area Transit Authority
For immediate release: June 26, 2019
Metro preliminary service information for July 4, 2019
Metro today released service information for customers planning to travel on July 4, 2019. While noting that some event details are still being finalized, the service information reflects the transit authority's most current information for customers. Metro noted that the information provided on its website (wmata.com/july4) will be updated as necessary, based on any new information provided by event organizers or outside law enforcement agencies.
Among the highlights:
Metrorail will open at 7 a.m. and close at 11:30 p.m. This year, Metro will ramp up to rush-hour service levels beginning at 2 p.m. Off-peak fares will be in effect all day and parking will be free at all Metro-operated facilities.
Due to expected ridership, bicycles and large coolers will not be permitted on Metrorail after 2 p.m.
Six Blue and Yellow line stations south of Reagan National Airport remain closed due to platform reconstruction. Free shuttle bus service will be available, but customers who have the option to drive to open stations are encouraged to do so.
Because Memorial Bridge will be closed to pedestrian traffic this year, Arlington Cemetery Station should not be used by customers traveling to the National Mall.
Due to its proximity to the Lincoln Memorial, Foggy Bottom Station may become "exit only" before the event and "entry only" after the event, as conditions warrant.
At Smithsonian Station, the National Mall side will become "entry only" starting at 9 p.m. to accommodate returning crowds.
All customers planning to use Metro are encouraged to purchase and load a SmarTrip card for each traveler prior to July 4. Be sure to load the card with enough value for an entire round trip to avoid lines.
For complete information, please see the service advisory:
www.wmata.com/july4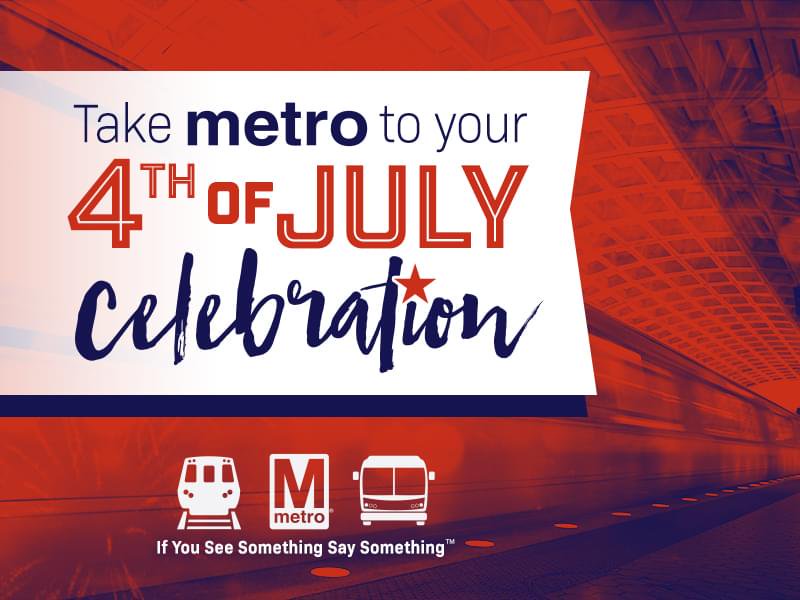 https://www.wmata.com/about/news/Metro-preliminary-service-information-for-July-4-2019.cfm