Theo nguồn tin tiếng Anh trên trang mạng của DC State Fair
We are Washington DC. But we are more than the nation's capital and the seat of federal government. DC is made up of people, culture and communities; however, because we are not a state, we cannot enjoy the same rights as every other American citizen.
For the first time in nearly 30 years, the matter of DC statehood is being put to a vote in Congress. On September 19, Mayor Muriel Bowser will give testimony to the House Committee on Oversight and Reform in favor of legislation recognizing Washington DC as the 51st state.
Join us for the first of three events championing DC statehood. The night will feature music by saxophonist Marcus Johnson, speakers and like-minded advocates – come share in the cause and celebrate DC's path to statehood! To learn more about DC statehood, visit statehood.dc.gov.
For reasonable accommodations, please contact the Mayor's Office of Community Affairs at 202.442.8150 or email eomevents@dc.gov.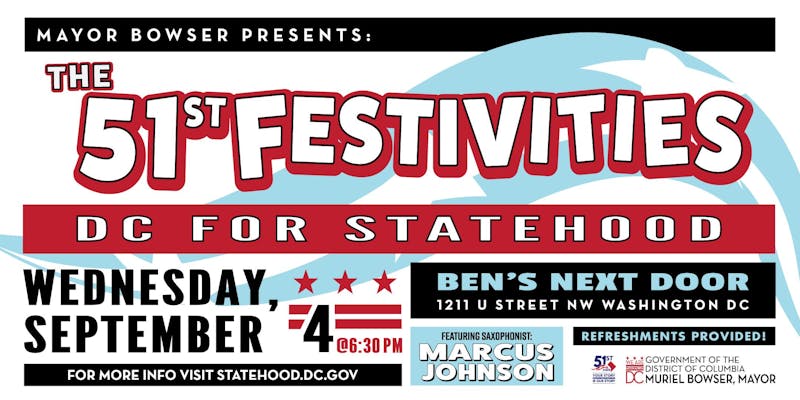 https://www.eventbrite.com/e/mayor-bowser-presents-the-51st-festivities-dc-for-statehood-1st-event-tickets-70989961887
Note: We are not responsible for typo error, price change, substitute item, or available of item from online ads.
Lưu ý: Chúng tôi không chịu trách nhiệm về lỗi ấn, thay đổi giá, hàng thay thế, hoặc có sẵn mặt hàng quảng cáo.