Bowser Administration Announces City Preparedness Plan for National League Championship Series Games
Theo nguồn tin tiếng Anh trên trang mạng của dc.gov & Office of the Mayor
Saturday, October 12, 2019
Fans Highly Encouraged to Use Metro and Public Transportation to Avoid Traffic Delays
(Washington, DC) – To maintain a safe and enjoyable experience for District residents, commuters, visitors, and businesses around the MLB National League Championship Series (NLCS) in the #SportsCapital, the Bowser Administration has coordinated service and logistical operations across multiple District agencies, with updates and modifications listed below. The area around Nationals Park will have restrictions ahead of the home games, which will start this Monday, October 14. The best-of-seven series began on Friday, October 11, 2019 in St. Louis and has the potential to go until Game 7 on Saturday, October 19, 2019. The Nationals' home games will be: Game 3 on Monday, October 14; Game 4 on Tuesday, October 15; and a potential Game 5 on Wednesday, October 16. Gates will open 2.5 hours prior to start of all games at Nationals Stadium.
Public Transportation:
Residents and visitors are encouraged to utilize public transportation to travel to and from the game(s).
Metro
Nationals fans can avoid game day traffic and parking hassles by choosing Metro, which will keep trains running to get fans home after the game.
For NLCS Game 3 on Monday night – and all late games for the remainder for the Nationals season – Metro will "flex" its service hours, keeping Navy Yard-Ballpark Station open 20 minutes after the end of the game with trains running outbound on all lines.
If Metrorail service is extended beyond its regular closing time, only Navy Yard-Ballpark Station will be available for entry (both entrances open). All other stations will be available for "exit only."
Customers heading to Yellow, Blue, Orange or Silver stations should transfer at L'Enfant Plaza. Customers transferring to the Red Line should do so at Gallery Place.
After 11:30 pm, all customers must use Navy Yard-Ballpark Station to enter the Metrorail system. Note: for fast entry, consider using the New Jersey Avenue entrance, rather than Half Street entrance.
If there is a wait to enter the station(s), Metro will accommodate all fans who are in line 20 minutes after the game ends.
Remember, each rider needs his/her own SmarTrip card. Be sure it's loaded with enough fare value for your entire roundtrip.
Additional Public Transportation Options
Residents and visitors can use Metro, Circulator, Capital Bikeshare, or ride share to travel to and from the game(s).
Normal Stadium Event Zone Parking rules will be in effect. Drivers are encouraged to use local parking garages rather than parking on neighborhood streets. Additional details on street closures can be found below.
Fans using ride share services should plan to be picked up on K Street and L Street, SE, instead of M Street, SE.
Capital Bikeshare will provide a corral at the N Street and First Street, SE station next to the stadium. Staff will be on hand to check in bikes two hours before the games, and the bikes will be available 30 minutes after the games.
Nationals Park offers a free bike valet located in Garage C at the corner of N & First Street, SE. The valet accepts bikes two hours before game time and closes one hour after the last out.
Public Safety Information:
Public safety alerts – residents and visitors attending NLCS games are encouraged to sign up for text alerts to receive safety, transit, and weather updates from the District on days when NLCS games are being played in Washington, DC. Signing up is simple and free – visit alertdc.dc.gov.
See something, say something – the public is the District's first line of defense in an emergency. If you see suspicious activity, report it to the Metropolitan Police Department by calling (202) 727-9099, texting 50411, or through iWATCH: iwatchdc.org.
Traffic Restrictions for NLCS Home Games:
Left turns will be restricted at several intersections along M Street, SE and no turns will be permitted at the intersection of South Capitol Street and M Street.
Traffic on M Street will be directed east or west to reach the 11th Street Bridge or I-395 on ramps respectively; South Capitol Street traffic will be directed north to reach I-395 or south across the Douglass Bridge to I-295 or the Suitland Parkway.
DDOT's traffic control officers and safety technicians will be on post to guide vehicles and pedestrians to and from Nationals Park.
Street Closures for NLCS Home Games:
The following street closures will be in effect for each game for three to five hours prior to the start time and continuing up to one and a half hours after the game ends:
N Street, SE from First to Van Street, SE.
Half Street, SE from M to N Streets, SE.
All street closures and listed times are subject to change based upon prevailing or unexpected conditions. Motorists will encounter delays if operating in the vicinity of this event and may wish to consider alternative routes. The Metropolitan Police Department (MPD) and the District Department of Transportation (DDOT) also wish to remind motorists in the vicinity of this event to proceed with caution as increased pedestrian traffic can be anticipated.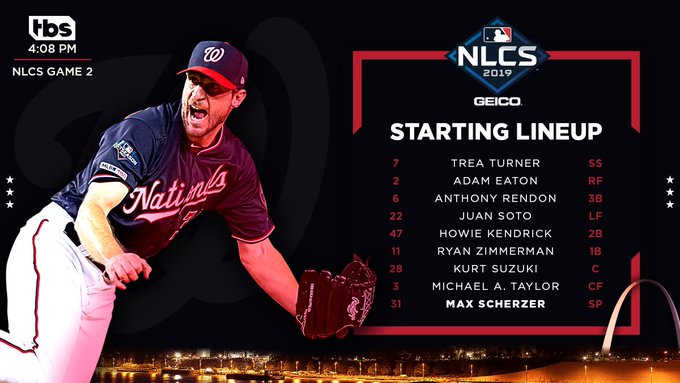 https://mayor.dc.gov/release/bowser-administration-announces-city-preparedness-plan-national-league-championship-series
Note: We are not responsible for typo error, price change, substitute item, or available of item from online ads.
Lưu ý: Chúng tôi không chịu trách nhiệm về lỗi ấn, thay đổi giá, hàng thay thế, hoặc có sẵn mặt hàng quảng cáo.