Theo nguồn tin tiếng Anh trên trang mạng của Washington Nationals
PARADE INFORMATION
Date: Saturday, November 2 at 2:00pm
Parade Route: Parade starts on Constitution Avenue NW at 15th Street NW, proceeds east along Constitution Avenue NW, and ends on Pennsylvania Avenue NW at 3rd Street NW
The Washington Nationals are the 2019 World Series champions! The Nationals defeated the Houston Astros in the World Series and brought the Commissioner's Trophy back to Washington, D.C. for the first time since 1924. Fans are encouraged to join the Washington Nationals players, coaches, and front office along with Mayor Muriel Bowser in celebrating this historic accomplishment at the World Series Champions Parade!
The World Series Champions Parade is scheduled for Saturday, November 2, at 2:00pm. The parade will begin on Constitution Avenue NW at 15th Street NW, proceed east along Constitution Avenue NW, and end on Pennsylvania Avenue NW at 3rd Street NW. The parade will be followed by a team rally. The two events are expected to last a combined 60-90 minutes. The parade and rally are open to the general public and free to attend. The parade and rally will be held rain or shine.
TRANSPORTATION
Fans are encouraged to use public transportation to travel to and from the parade, as parking will be extremely limited. If you are planning to take Metrorail to and from the parade, please visit www.wmata.com for the latest train schedules.
WEAR RED
Nationals fans are encouraged to wear red around Washington D.C. all weekend long and at the World Series Champions Parade on Saturday afternoon!
POSTSEASON MERCHANDISE
Gear up for the World Series Champions Parade! The Nationals Team Store will be open 10am-8pm on Friday, November 1 and 10am-4pm on Saturday, November 2 for fans to purchase Nationals gear and Postseason gear.
SOCIAL MEDIA
Use #FightFinished to tag posts from the World Series Champions Parade on social media
LATEST INFORMATION
Text NATS to 888-777 to receive text alerts regarding public safety, transportation, and weather updates about the parade.
For the most up-to-date information, please follow the Nationals on Twitter and Facebook.
QUESTIONS
If you have any questions, please contact the Nationals Ticket Sales and Services Team at 202.675.NATS(6287) or ticketinfo@nationals.com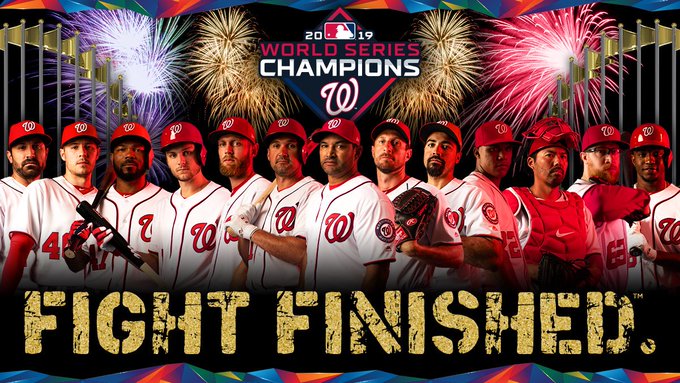 https://www.mlb.com/nationals/tickets/specials/parade
Note: We are not responsible for typo error, price change, substitute item, or available of item from online ads.
Lưu ý: Chúng tôi không chịu trách nhiệm về lỗi ấn, thay đổi giá, hàng thay thế, hoặc có sẵn mặt hàng quảng cáo.