Sons and Daughters Who Lost Fathers in Vietnam Issue Nationwide Invitation on 40th Anniversary of War's End
'Sons and Daughters in Touch' Invite all Veterans and their Families to Special Weekend Honoring Fathers Lost to War
Washington, DC (PRWEB) April 30, 2015
To mark the 40th anniversary of the end of the Vietnam War – April 30th, 1975 — one group is issuing a nationwide invitation to America's Gold Star families and veterans. Sons and Daughters in Touch (SDIT), the children of the 58,292 U.S. servicemen lost in the Vietnam War, is hosting a series of events called 'Honoring Our Fathers', on Father's Day weekend in June.
The events are designed to bring together those whose fathers have died while serving in Vietnam, and other wars. They want all 'Gold Star' families – especially those who've lost fathers in combat – and veterans in general, to attend the weekend of events, culminating with a Father's Day ceremony at the Vietnam Memorial Wall in Washington, DC, on Sunday, June 21st.
This year marks the 40th Anniversary of the end of the Vietnam War, and the 50th Anniversary of U.S. combat operations in the Vietnam War. Of the more than 58-thousand Americans lost in the conflict, all but eight were men.
SDIT is asking people to register for the events of the "Honoring Our Fathers" weekend at http://sdit.org/25th-anniversary-invitation/,and share the invitation with other veterans and their families. The weekend will include seminars aimed at healing, washing the Vietnam Veterans Memorial Wall and a banquet on Saturday, June 20th, and a Father's Day ceremony on Sunday, June 21st.
"This weekend of events is about the children of the casualties of the Vietnam War coming together and sharing our stories and life experiences. It's also about honoring all fathers lost to war, and promoting healing and hope for all those affected by war," says Tony Cordero, SDIT Chairman. He adds that SDIT wants to share this special anniversary commemoration with all veterans and their families.
The weekend of events, called 'Honoring Our Fathers' will feature:

Saturday (daytime) – Sharing Circles and seminars aimed at healing for families
Saturday (evening) – Banquet featuring keynote address by LTG Claude Kicklighter (US
Army ret.), former Director of the Vietnam War Commemoration Commission.

Saturday (6AM EST) – SDIT members wash wall of the Vietnam Veterans Memorial
Sunday (10AM EST) – 'Honoring Our Fathers' ceremony at the Vietnam Veterans Memorial
SDIT represents the children of Americans lost in Southeast Asia during the Vietnam War. SDIT was established 25 years ago, and was the first resource for 'Gold Star' children of the Vietnam War. SDIT members from across the country are expected to attend the Father's Day weekend. Some will be seeing their father's names on the Wall for the first time, and all will be connecting with others who share their loss.
Today, SDIT maintains strong bonds with other organizations representing children of fallen military members. SDIT is promoting healing by uniting its members, identifying more 'Gold Star' sons and daughters from the Vietnam War, providing education on the historical and emotional legacy of war, and helping America's newest generation of Gold Star children understand what lays ahead in this life-long experience.

For more information, please visit http://www.SDIT.org.
###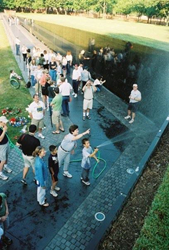 http://www.prweb.com/releases/2015/05/prweb12691196.htm