Free People is Coming to Washington, D.C.'s M Street
The lifestyle brand will open a boutique in the capital's premier shopping destination
PHILADELPHIA, PA (PRWEB) AUGUST 12, 2015
Specialty clothing brand, Free People, will be opening its 110th boutique in the heart of Georgetown on August 21st, 2015. The brand's covetable product assortment will be the perfect addition to D.C.'s premier shopping destination, set to live within a three story 4,770 square foot space right on M Street. Inside old world walls and a historic storefront, the brand will carry unique designs sure to become favorites for locals and tourists alike.
The new boutique will be designed in the brand's 'Black Smith's Cottage' concept. Highlighting the more rugged side of the Free People girl, a mix of rugged elements and feminine details help make the space feel like her personal workshop. Behind a traditional Georgetown red brick façade, guests will be welcomed into the three story boutique by a wooden black door. Organic materials, including wide plank reclaimed wood floors, as well as preserved original steel, brick, and concrete elements, are highlighted throughout the space. On the first level, a custom built in back wrap, including three points of sales, will be flanked by existing fireplace openings. An 'FP Collection' shoe shop will feature an overlook into the lower level, where additional apparel and sale items will be located. Customers can use a new custom wooden residential inspired staircase to make their way to the store's lower level. Shoppers can take another newly installed staircase, constructed of wood treads and steel guardrails, to the boutique's upper level. Featuring a breathtaking wood truss ceiling, the upper level will house lifestyle intimates and six fitting rooms featuring distinctive coin curtains.
"We've been looking forward to opening a Free People boutique in Georgetown for some time now," says Beth Wehagen, Free People's Director of Retail. "We are thrilled to finally be on M Street! This store will feature a wide-range of products that will be perfect for the area's customer including an amazing 'FP Collection' shoe assortment."
At opening, Free People Georgetown will carry a wide assortment of dresses featuring unique silhouettes, prints, and textures ideal for outstanding summer days. An Indigo Shop will provide customers with head to toe indigo outfitting options through denim, chambray, and blue washes across all classes. Shoppers can look forward to a strong jeans assortment, including skinnies, flares, boyfriends, and one-pieces. To add pops of color, fun floral and ethnic print patterns will be mixed through the assortment of woven and knit tops, dresses, slips, and novelty jackets. In preparation for the season ahead, the location will feature a strong presence of sweater styles and textured bottoms for cozy head-to-toe looks. Merchandised on the top floor, customers can expect lifestyle intimates from the brand's 'Intimately Free People' collection. Accessories will include skinny scarves, clean silhouette and leather bags, beanies, and statement jewelry, alongside a dedicated 'FP Collection' shoe shop.
The new store will have a celebration on opening day, Friday, August 21st, from 6-8pm. The first 50 customers to arrive will receive a tote bag giveaway, light refreshments will be served, and store stylists will be on hand to give in-store styling sessions. Guests should RSVP on Facebook: [https://www.facebook.com/events/1685409158340775/
Each Free People store offers personalized shopping experiences from a team of expert stylists. Customers can schedule a one-on-one appointment with their favorite stylist, as well as interact and gain inspiration through the brand's online Style Community, FP Me. In addition to offering personal styling, D.C. fans can look forward to a variety of in-store events to be hosted at the Free People's Georgetown boutique throughout the year.
Free People Georgetown will be located at 3009 M St. NW Washington, DC 20007. Store hours will run Monday-Saturday 10am-8pm, and Sunday 12pm-7pm. Fans should follow the store on Instagram to stay up-to-date on all the latest arrivals, events, and other happenings: [https://instagram.com/freepeoplegeorgetown
For more information, images, to request an interview, or to discuss a TV opportunity, please call Sarah Santos at 215-454-7224 or email ssantos@freepeople.com.
###
About Free People
Free People is a specialty clothing brand featuring the latest trends and vintage collections for women who live free through fashion, art, music, and travel. The eclectic look consists of quality apparel, shoes, and accessories that invoke attributes of femininity, spirit, and creativity with its design. Free People is distributed globally via direct channels including the Free People Global site, the Free People UK site, and the Free People China site as well as specialty boutiques, top department stores, and the brand's free standing retail locations in the U.S. and Canada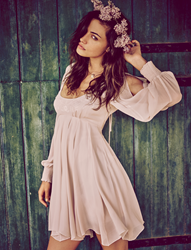 Note: We are not responsible for typo error, price change, substitute item, or available of item from online ads.
Lưu ý: Chúng tôi không chịu trách nhiệm về lỗi ấn, thay đổi giá, hàng thay thế, hoặc có sẵn mặt hàng quảng cáo.
http://www.prweb.com/releases/FreePeopleDC/2105/prweb12900899.htm