Promo Emancipation Day 2016
SOURCE: DC.gov
DC Emancipation Day 2016 Lineup
The Abolition of Slavery took place on April 16, 1862. Over 3,000 enslaved persons were freed nine months before the Emancipation Proclamation liberated slaves in the south.
Join Mayor Muriel Bowser for the 154th Anniversary of the District of Columbia Emancipation! Festivities at Freedom Plaza include a parade, fireworks, food and a free star-studded concert featuring:
Raheem Devaughn
Sweet Honey in the Rock
Trouble Funk
Be'la Dona
Rare Essence
Black Alley
April Sampe
4ey
And more!
#DCEmancipationDay
Freedom Plaza, 14th Street and Pennsylvania Avenue, NW
For a full listing of events, visit emancipation.dc.gov/events.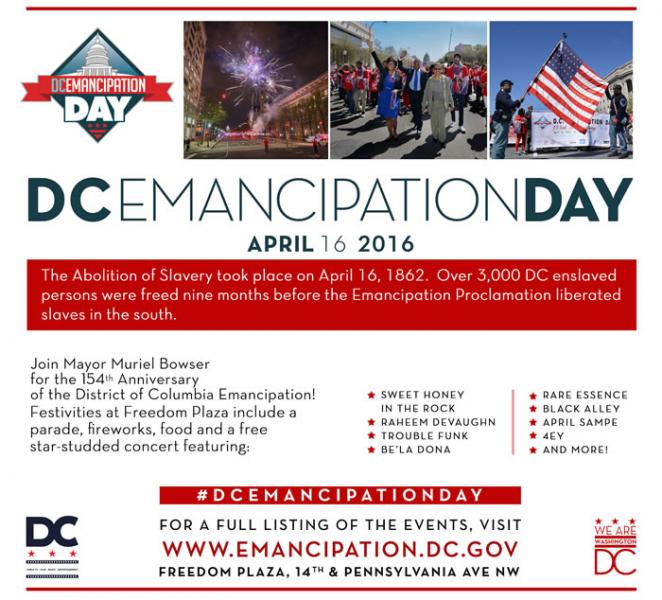 Next Date:
Saturday, April 16, 2016 – 1:00pm to 3:00pm
Location:
800-1350 Pennsylvania Avenue, NW
Details:
The Emancipation Day Parade will be held from 1 pm to 3 pm.
http://emancipation.dc.gov/event/emancipation-day-parade-4