MyTax.DC.gov, OTR's New Online Tax Portal, Is Live!
SOURCE: dc.gov
Tuesday, November 1, 2016
(Washington, DC) – The District of Columbia Office of Tax and Revenue (OTR) is excited to announce that beginning November 1, District taxpayers, both individual and business, can view real-time account information, file a variety of tax types, and design their own payment plans with its new tax portal, MyTax.DC.gov.
"MyTax.DC.gov will act as the new system of record for tax and revenue information for the District of Columbia," said Jeff DeWitt, Chief Financial Officer. "This portal is part of a broader cultural, strategic, and technological investment that we are making to better serve all District taxpayers."
The initial application includes individual, franchise, and withholding taxes as well as registration for businesses. Other taxes and fees will remain in the existing Electronic Taxpayer Service Center (eTSC) until they are converted to the new integrated tax system over the next two and a half years.
"The new portal will make paying and filing taxes in the District faster, simpler, and more efficient than ever," said Glen Groff, OTR's Interim Deputy Chief Financial Officer.
As an organization committed to providing the highest quality customer service in a fiscally sustainable, responsive, and respectful manner, OTR also introduced its new e-Services unit on November 1. Housed within the Customer Service Administration, representatives are responsible for addressing inquiries received via MyTax.DC.gov. Additionally, they will assist taxpayers in creating and managing their online accounts, navigating the site, and resolving any tax-related issues.
"Collectively, our representatives bring to this team over 115 years of e-service experience," shares Eva Liggins, Director of OTR's Customer Service Administration. "We're confident this unit will make our services more accessible, allowing us to build better relationships with our customers and share information more easily."
To learn more, visit MyTax.DC.gov/FAQ/faq.html.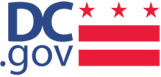 http://dc.gov/release/mytaxdcgov-otr%E2%80%99s-new-online-tax-portal-live