SOURCE: DC Mayor's Office on Asian and Pacific Islander Affairs
Join Mayor Bowser at the Budget Engagement Forums!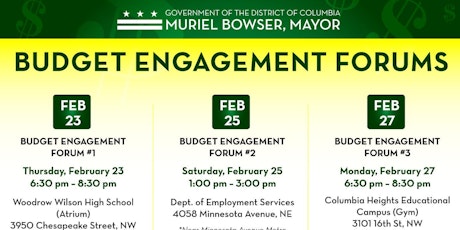 Dear Community Members,
During the month of February, the Bowser Administration will host Budget Engagement Forums throughout Washington, DC to solicit public input about the Administration's priorities and investments.
The Mayor will be hosting three budget engagement forums:
Thursday, February 23th at 6:30pm at Woodrow Wilson High School (Atrium) (3950 Chesapeake St NW). RSVP here.
Saturday, February 25th, at 1:00 p.m. at the Department of Employment Services (4058 Minnesota Avenue, NE). RSVP here.
Monday, February 27th at 6:30 p.m. at the Columbia Heights Educational Campus (3101 16th Street, NW). RSVP here.
If you are interested, please register accordingly. We look forward to seeing you!
REGISTRATION:
https://www.eventbrite.com/e/budget-engagement-forum-2-tickets-21570290319
Mayor Bowser Announces Budget Engagement Forums and Executive Office of the Mayor Open House
Tuesday, January 27, 2015
Contact: LaToya Foster, (202) 727-5011
(Washington, DC) – Today, Mayor Bowser announced that she will host a series of three Budget Engagement Forums throughout the District in February. The forums will be open to the press and public. The announcement took place at the Council-Mayor Breakfast where Mayor Bowser and cabinet officials discussed the current budget landscape with members of the DC Council.
"In Fresh Start February, my Administration will continue to focus on fiscal responsibility and transparency," said Mayor Bowser. "We look forward to working with the Council and the public to develop smart solutions to support our key priorities, like investing in education, job training and affordable housing."
The Administration's Budget Engagement Forums are designed as interactive discussions where DC residents can provide input to help shape priorities. The Budget Engagement Forums are scheduled for Thursday, February 19 at Wilson High School, Saturday, February 21 at Anacostia High School, and Monday, February 23 at Dunbar High School.
Mayor Bowser and Administration officials are also scheduled to attend local community meetings in the coming weeks to discuss the budget.
Additionally, Mayor Bowser will host an Open House for the public at the John A. Wilson Building on Monday, February 2, 2015 from 4 pm to 6:30 pm. All Executive offices in the Wilson Building will be open to the public.
What: Budget Engagement Forum
When: Thursday, February 19
Time: 7 pm – 8:30 pm
Where: Woodrow Wilson High School
3950 Chesapeake Street, NW
*Near Tenleytown–AU Metro Station*
What: Budget Engagement Forum
When: Saturday, February 21
Time: 1 pm – 2:30 pm
Where: Anacostia High School
1601 16th Street, SE
*Near Anacostia Station Metro Station*
What: Budget Engagement Forum
When: Monday, February 23
Time: 7 pm – 8:30 pm
Where: Dunbar High School
101 N Street, NW
*Accessible using 96 Bus toward Capital Heights Station or P6 Bus toward Rhode Island Ave Station*
Get more information and register for the Mayor's Open House here.
Get more information and register to attend a Budget Engagement Forum here
http://mayor.dc.gov/release/mayor-bowser-announces-budget-engagement-forums-and-executive-office-mayor-open-house