Mayor Bowser Announces "Vacant to Vibrant DC"
SOURCE:
Friday, December 15, 2017
More Than 40 Vacant Spaces to be Transformed into Housing, Community Green Spaces, and Economic Development Opportunities
(Washington, DC) – Today, Mayor Bowser launched "Vacant to Vibrant DC," a new five-point plan to transform vacant spaces into approximately 70 units of workforce housing, community green spaces, and economic development opportunities for small businesses throughout the city. The plan will reduce the District's vacant property inventory by reactivating up to 50 sites from the Department of Housing and Community Development's Property Acquisition and Disposition Division.
"Through Vacant to Vibrant DC we are making good on our commitment to get more Washingtonians on pathways to the middle class," said Mayor Bowser. "This effort is about so much more than just taking a vacant space and transforming it into something new – it's about building more homes for our residents, creating new green spaces, and spurring economic growth in every corner of our city."
The bulk of the sites will be made available through three key disposition processes:
More than 30 sites, located in neighborhoods such as Bellvue (Ward 8), Carver/Langston (Ward 5), Deanwood (Ward 7), and Park View (Ward 1), will be auctioned to produce approximately 50 workforce housing units. An online auction will be conducted by Alex Cooper Auctioneers in mid-January.
Up to eight sites, located in neighborhoods that include Anacostia (Ward 8) and Deanwood (Ward 7), will be offered through an invitation for bid to participants in the District's Certified Business Enterprise (CBE) program to transform the sites into workforce housing units.
Two sites, one located in Anacostia (Ward 8) and the other in Carver/Langston (Ward 5), will be made available through the DC Housing Finance Agency's Housing Investment Platform to produce 10 workforce housing units.
One site will be used as a demonstration project on tiny home construction, and the remaining sites will be made available for the expansion and preservation of outdoor green spaces in Ward 8.
"In 2015, the Bowser Administration inherited over 90 vacant and blighted sites—and we heard loud and clear that residents wanted us to find creative and productive solutions for the sites," said Department of Housing and Community Development Director Polly Donaldson. "Since then, we made significant progress, with over half of those sites being in some form of disposition. Vacant to Vibrant DC will clear out the balance of our inventory, and fulfills a promise I made to Mayor Bowser and District residents last spring to move all remaining sites into some form of productive use."
This year, the District was recognized for its multi-pronged approach to housing production and preservation, homeownership, and development of vacant properties when it was selected for the Urban Land Institute's Larson Housing Policy Leadership Award. Over the past three years, the Bowser Administration has sparked the preservation or production of more than 9,900 affordable units, with another 3,000 units in preconstruction. In Fiscal Year 2017, the Administration continued to make historic investments in affordable housing, getting more than $138 million in Housing Production Trust Fund (HPTF) financing out the door to support 23 projects that will produce or preserve more than 1,900 affordable units.
In October 2017, in addition to making enhancements to the District's Employer-Assisted Housing Program, Mayor Bowser announced that eight projects from the Spring 2017 RFP were selected for further underwriting, representing $75 million in HPTF financing. Those projects are anticipated to produce or preserve more than 500 affordable housing units and create approximately 70 permanent supportive housing units. Applications are now being accepted for the Fall 2017 RFP.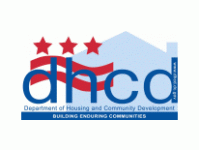 https://dhcd.dc.gov/release/mayor-bowser-announces-vacant-vibrant-dc