Changes in the Guest Worker Program
SOURCE: AAEA
Panelists discuss the use of H-2A workers at 2018 AAEA Annual Meeting
(PRWEB) JULY 27, 2018
Growers, especially specialty crop farmers, are reporting labor shortages across the country. There is a program created for U.S. employers or agents, to bring foreign agricultural temporary workers in for help. This program is H-2A, and is the only program currently available to legally hire foreign workers to do seasonal agricultural jobs. There are specific regulatory requirements that the employers or agents must abide by including to first attempt to fill the positions with U.S. citizens. Agricultural guest worker visas are part of a much larger conversation about U.S. Immigration policy.
In the Organized Symposia, "Guest Worker Programs in Agriculture: Drivers of Change" seven panelists from academic and government fields will discuss and outline the main elements of how, where, and why H-2A workers are being used.
The organizer for the session, Fritz Roka from the University of Florida, says "Participation in the H-2A program has grown dramatically in the last 5 years. Clearly it's fulfilling a labor need, but given the program costs and bureaucratic requirements, the H-2A program may not be feasible for every farming operation."
Over 1,600 participants are expected to attend the 2018 AAEA Annual Meeting, which will take place on August 5- August 7 at the Marriott Wardman Park in Washington, D.C. This session will be on Monday, August 6, from 2:45 – 4:15 pm.
If you are interested in attending the 2018 AAEA Annual Meeting in Washington, D.C. or simply set up an interview with any of the authors, please contact Allison Scheetz in the AAEA Business Office. You can also learn more on our Annual Meeting Media Kit page.
ABOUT AAEA: Established in 1910, the Agricultural & Applied Economics Association (AAEA) is the leading professional association for agricultural and applied economists, with 2,500 members in more than 60 countries. Members of the AAEA work in academic or government institutions as well as in industry and not-for-profit organizations, and engage in a variety of research, teaching, and outreach activities in the areas of agriculture, the environment, food, health, and international development. The AAEA publishes two journals, the American Journal of Agricultural Economics and Applied Economic Perspectives & Policy, as well as the online magazine Choices. To learn more, visit http://www.aaea.org.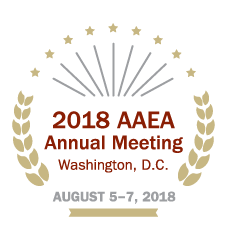 https://www.prweb.com/releases/changes_in_the_guest_worker_program/prweb15651880.htm