Longtime news director Bill Lord shares his memoir "50 Years After Vietnam" at National Press Club Headliners event, November 9
SOURCE: National Press Club or prnewswire.com
Longtime news director Bill Lord shares his memoir "50 Years After Vietnam" at National Press Club Headliners event, November 9
WASHINGTON, Oct. 11, 2018 /PRNewswire/ — After spending more than 40 years helping people share their stories in newsrooms across the country, Bill Lord decided to share a story of his own; the story of a young, fearful draftee fighting a war he didn't understand. As Americans head into Veterans Day weekend, Lord will discuss his moving memoir, "50 Years After Vietnam: Lessons and Letters from the War I Hated Fighting," at a National Press Club Headliners Book Event on Friday, November 9.
In "50 Years After Vietnam," Lord uses excerpts from the letters he wrote back home to illustrate the overall mindset of the young soldiers who fought alongside him and the myriad of fears they all faced: "We were orphans out there on the battlefield," Lord writes. "No one could tell us what we were fighting for and many of our fellow Americans had begun to hate us."
This event will take place at 6:30 p.m. in the Club's Edward R. Murrow Room, and will feature a discussion with the author, an audience question-and-answer session, and a book signing. Tickets are $5 for National Press Club members and $10 for the general public. When purchasing tickets for this event online, buyers will also have the option of purchasing copies of the book at check-out. To purchase tickets and copies of the book, please click here.
Books will also be available for purchase at the event. Proceeds from book sales will benefit the non-profit affiliate of the Club, the National Press Club Journalism Institute, so we kindly ask that you leave all outside books and memorabilia at home.
About the Author:
Bill Lord spent more than four decades in the news industry, serving most recently as the news director at Washington CBS station WUSA before announcing his retirement in late 2016. Prior to joining WUSA, Lord was at DC ABC affiliate WJLA for nearly 13 years, first as the station's news director and then as General Manager, all while simultaneously running the regional cable news channel News Channel 8. Earlier in his career, Lord was news director at stations in Los Angeles, Seattle and Nashville, and was a correspondent for NBC News.
PRESS CONTACT:
Lindsay Underwood, The National Press Club
(202) 662-7561, lunderwood@press.org
SOURCE National Press Club
Related Links
http://www.press.org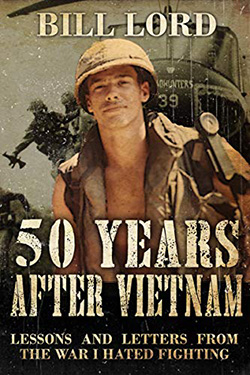 https://www.prnewswire.com/news-releases/longtime-news-director-bill-lord-shares-his-memoir-50-years-after-vietnam-at-national-press-club-headliners-event-november-9-300729875.html