District to Remain Open in the Event of a Federal Government Shutdown
SOURCE: DC.gov
District to Remain Open in the Event of a Federal Government Shutdown
Friday, December 21, 2018
(WASHINGTON, DC) – Today, Mayor Muriel Bowser vowed to keep DC Government open in the event of a partial Federal Government shutdown. During the partial shutdown, which would begin on Saturday, December 22 at 12:01 a.m., DC Government will remain open to serve all District residents, businesses, and visitors.
"As we said when this happened earlier this year: Leadership is about stepping up, not shutting down," said Mayor Bowser. "Regardless what happens at the federal level, DC Government will be open for business."
In the case of a shutdown, the Department of Public Works will take over litter collection for the National Parks Service's (NPS) 126 properties across the District that would otherwise not be serviced during a shutdown. In the event of inclement weather, DPW will also treat and clear NPS roadways.
As part of the District's preparation for a potential government shutdown, each agency has reviewed funding sources and guidance provided by their federal agencies. Thanks to the efforts of Congresswoman Eleanor Holmes Norton, the District enjoys "shutdown protection" so that local operations may continue during a federal shutdown. Residents and visitors should expect no service changes or lapses in benefits through District agencies. This means that the District's education and public safety agencies will continue operating as usual.
The following agencies have provided service clarifications to residents and clients:
DC Department of Health Care Finance (DHCF) and all Economic Security Administration (ESA) Service Centers will ensure that Medicaid providers and beneficiaries continue to operate on normal payment and service schedules.
Department of Employment Services (DOES) encourages Federal Government employees who are furloughed to visit dcnetworks.org to file for Unemployment Compensation benefits. Contractors working in a Federal Government agency not paid retroactively through the contracting agency are also entitled to unemployment compensation benefits for the period of the shutdown.
Department of Public Works (DPW) will continue to serve the District on a regular schedule. DPW will also provide trash collection services for the National Parks Service's 126 properties in the District.
DC Department of Human Resources (DCHR) retirement accounts and current District Government retirees will remain unaffected.
In the event of a Federal government shut down, the Department of Health Care Finance and all DHS Economic Security Administration (ESA) Service Centers will continue to operate on a normal schedule. There will be no disruption of public benefit payments to DC residents, including assistance provided through the Supplemental Nutrition Assistance Program (SNAP), Temporary Assistance to Needy Families (TANF), and Medicaid. If federal government funding is not restored within 30 days, the District will notify customers of any potential impacts to their benefit payments. Residents who have specific questions can call the ESA Call Center at (202) 727-5355.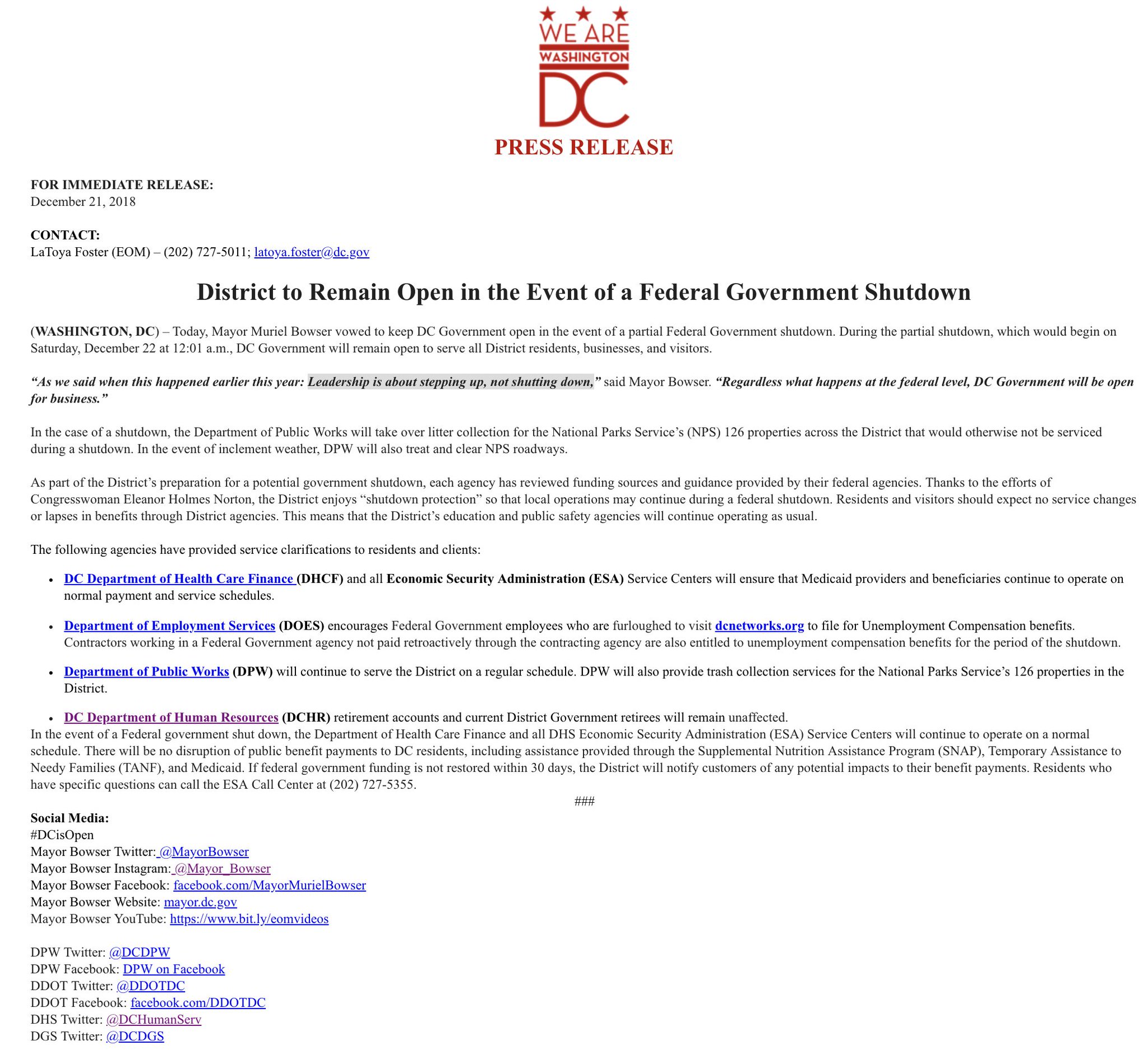 https://mayor.dc.gov/release/district-remain-open-event-federal-government-shutdown