Mayor Bowser Announces Emergency Legislation, Giving DC Government the Ability to Provide More Federal Employees with Much-Needed Unemployment Insurance Benefits
SOURCE: DC.gov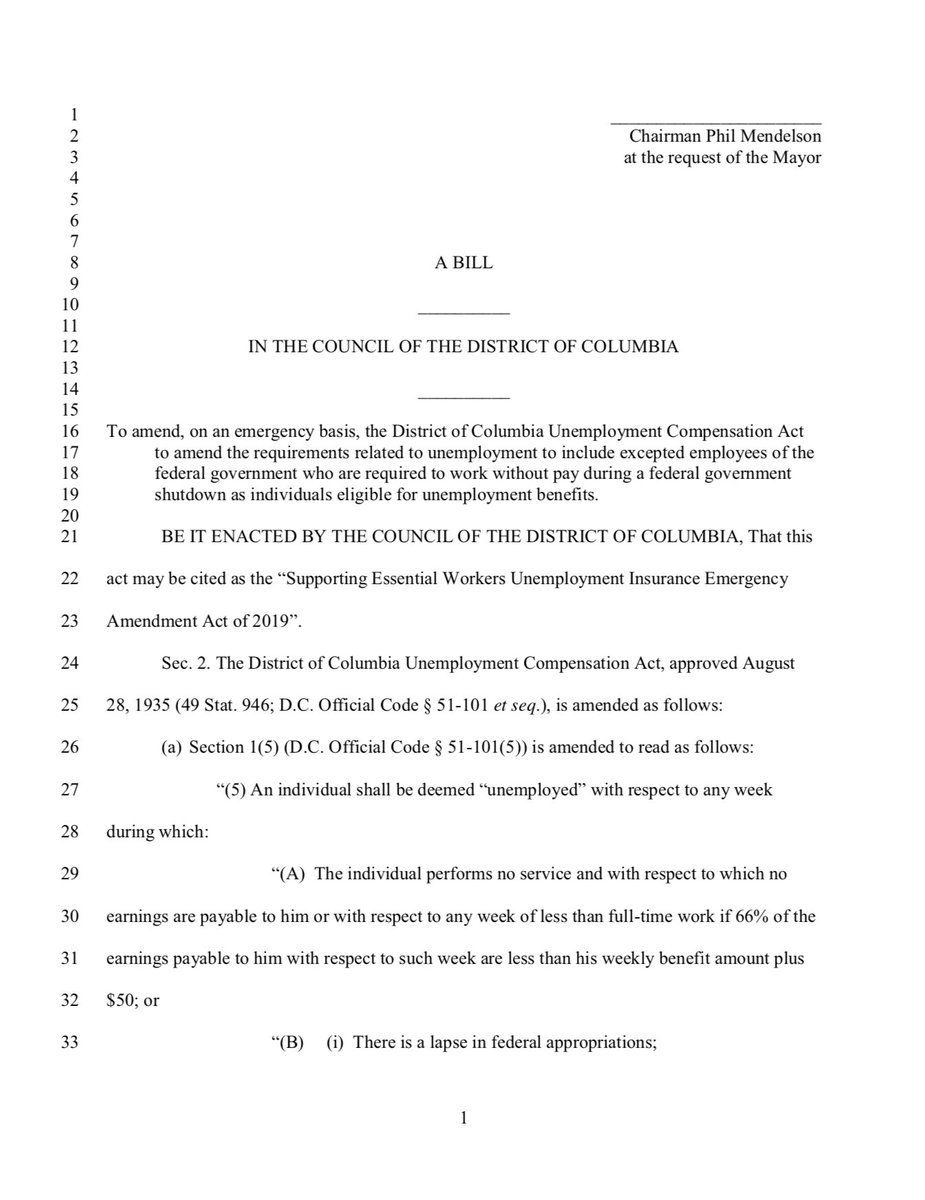 Mayor Bowser Announces Emergency Legislation, Giving DC Government the Ability to Provide More Federal Employees with Much-Needed Unemployment Insurance Benefits
Tuesday, January 22, 2019
Mayor Bowser also Commits $2 Million to SNAP, Ensuring DC's Most Vulnerable Continue to Receive Nutritional Support Despite Government Shutdown
(Washington, DC) Today, which marks the beginning of the second month of the partial federal government shutdown, Mayor Bowser announced that she is sending emergency legislation to the Council of the District of Columbia that will give DC Government the ability to provide more federal employees with much-needed unemployment insurance benefits. Additionally, the Mayor also committed $2 million in additional support from DC's local contingency fund to the Department of Human Services (DHS) for disbursement to new and recertifying DC Supplemental Nutrition Assistance Program (SNAP) beneficiaries starting in February. This commitment ensures that despite the lapse in federal funding for SNAP due to the persisting federal government shutdown, vital food assistance to tens of thousands of DC households and families will continue. SNAP is a nationwide program that offers nutrition assistance to millions of eligible, low-income individuals and families and is the largest program in the domestic hunger safety net.
"As we enter the second month of this aimless and unsustainable government shutdown, millions of Americans, including hundreds of thousands of District workers and families, are feeling the full impact of lost income and the anxiety that comes with not knowing when you'll receive a steady paycheck," said Mayor Bowser. "We know that what Americans need is a resolution to this shutdown, but until that happens, we're going to keep doing what we can to make sure our residents have their basic needs taken care of – and that includes stepping up to fund SNAP and provide unemployment insurance benefits."
Last week, Mayor Bowser sent a letter to United States Secretary of Labor Alexander Acosta urging the U.S. Department of Labor to work with the DC Government to make more federal workers eligible for unemployment insurance benefits. Currently, federal workers who are deemed excepted or essential must remain on the job on a full-time basis without pay and without the ability to claim unemployment insurance benefits. The Department of Labor denied the Mayor's request and reaffirmed their position that these excepted and essential employees will remain ineligible for unemployment insurance benefits. In light of this decision, Mayor Bowser is sending emergency legislation to the Council of the District of Columbia that will allow the DC Government to provide unemployment insurance benefits to those essential federal employees who are working without pay or financial assistance.
A significant portion of families and individuals receiving SNAP benefits have no other source of income, and SNAP benefits provide a basic level of food assistance. On average, a family receives about $220 of food benefits per month, a small yet vital lifeline for approximately 110,000 Washingtonians. Of these beneficiaries, 41,000 are children under the age of 18, and 16,000 are seniors over the age of 60.
At today's announcement, Mayor Bowser also joined Congresswoman Eleanor Holmes Norton in calling on the Trump Administration to work with Congress to immediately end the partial government shutdown, while highlighting local leaders, like the Capital Area Food Bank, that are assisting thousands of DC residents, including furloughed federal employees and their families.
Capital Area Food Bank, the largest organization in the District working to solve hunger, has seen a 20 percent increase in demand since the shutdown began. To mitigate the impacts of the shutdown on residents, the organization is hosting weekly, free grocery distributions for federal workers and contractors, and have committed to operate their "pop-up" grocery giveaways until the shutdown ends. For a list of other non-profit and private businesses stepping in to provide individuals and families affected during this unexpected time of need, visit dcfoodpolicy.org/federal-government-shutdown-resources.
For a full list of available resources for impacted federal workers, families, and businesses, or to see how you can help, visit dc.gov/shutdown..
https://mayor.dc.gov/release/mayor-bowser-announces-emergency-legislation-giving-dc-government-ability-provide-more