DDOT Welcomes Spring with the Return of #BlossomBus, Extended Hours
SOURCE: DC.gov
FOR IMMEDIATE RELEASE
Media Contacts
DDOT Welcomes Spring with the Return of #BlossomBus, Extended Hours
(Washington, DC) – Today, the District Department of Transportation (DDOT) announced the fourth annual #BlossomBus will begin service on the National Mall route on Sunday, March 17.
The 2019 #BlossomBus is 100 percent electric and free for all riders through March 31, as part of Mayor Bowser's #FairShot campaign. Through April 12, the #BlossomBus will travel the National Mall (NM) Route on weekends, and rotate through the remaining DC Circulator routes on weekdays.
"This year's #BlossomBus furthers Mayor Bowser's vision to prioritize sustainable, accessible transportation in the District," said DDOT Director Jeff Marootian. "The DC Circulator is a great way for our residents and the 1.5 million visitors to experience the beauty of the cherry blossoms each Spring and explore the District."
Beginning March 17, the DC Circulator's National Mall (NM) Route will transition to summer hours to increase capacity for the residents and visitors participating in the National Cherry Blossom Festival and the peak summer travel season. During the extended hours, the National Mall Route will run between 7:00 a.m. and 8:00 p.m. on weekdays and between 9:00 a.m. and 8:00 p.m. on weekends.
The 2019 #BlossomBus theme is "Inspiration Blossoms Here" and features artwork from students from across the District in grades four through six, who participated in an art and persuasive writing contest sponsored by the DC Circulator. The submissions aim to inspire school aged children around the world to visit the District's thriving arts, culture, and historical attractions.
The #BlossomBus will be featured at the 2019 National Cherry Blossom Festival Parade on Saturday, April 13, and the fifth annual Anacostia River Festival on Sunday, April 14 in Anacostia Park. For the official #BlossomBus schedule, please click here.
###
Route Schedule
March 17 – March 22: Georgetown – Union Station
March 23 – March 24: National Mall
March 25 – March 27: Dupont Circle – Rosslyn – Georgetown
March 28 – March 29: Eastern Market – L'Enfant Plaza
March 30 – March 31: National Mall
April 1 – April 5: Woodley Park – Adams Morgan – McPherson Square
April 6: Eastern Market – L'Enfant Plaza (Petalpalooza)
April 7: National Mall
April 8 – April 10: Congress Heights – Union Station
April 11- April 12: Eastern Market – L'Enfant Plaza
April 13: National Cherry Blossom Festival Parade
April 14: Anacostia River Festival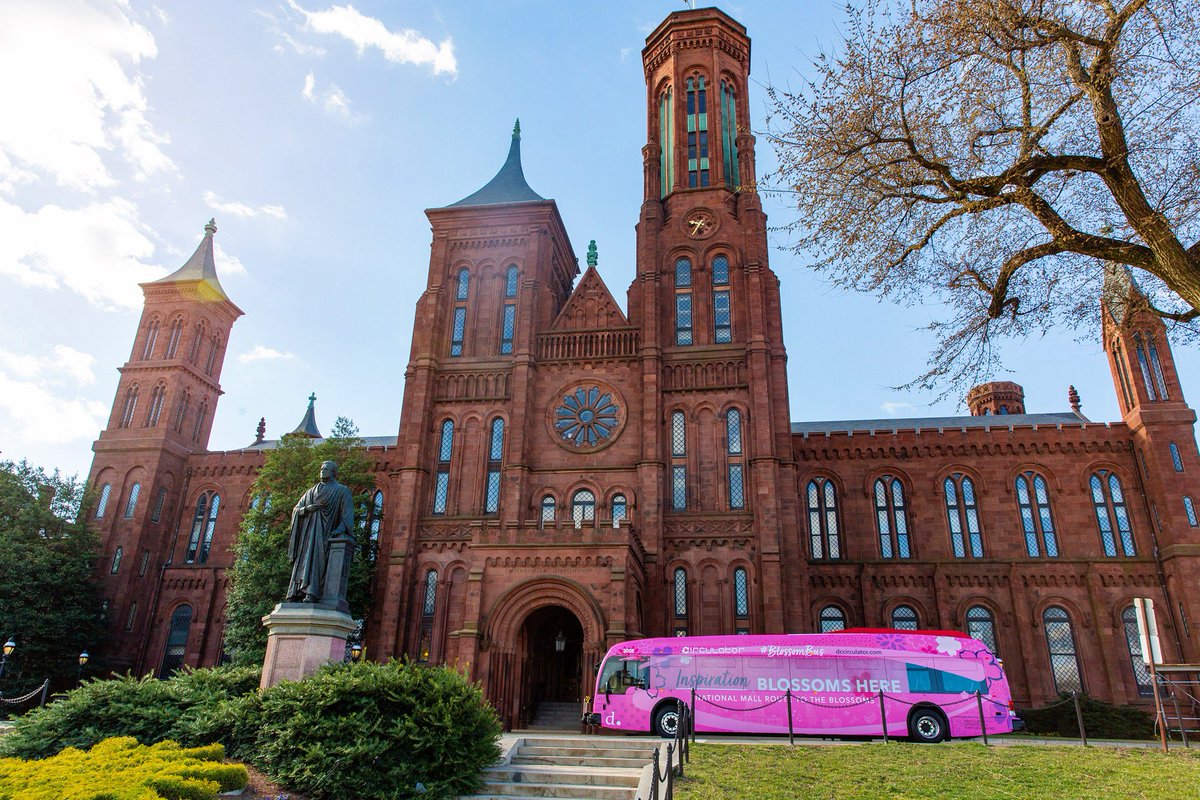 https://ddot.dc.gov/release/ddot-welcomes-spring-return-blossombus-extended-hours