11th Annual DC Housing Expo and Home Show
SOURCE: DC.gov
A Celebration of Housing and Community Development
This all-day event celebrates "National Homeownership Month," as promoted by the U.S. Department of Housing and Urban Development. The Expo also has a District-centered theme of "June Housing Bloom," which recognizes how the District produces and preserves affordable housing, spurs development in underserved communities and ensures that residents of all backgrounds can afford to live and thrive in the city.
New This Year: $5,000 Furniture Set Giveaway
Expo advertiser WHUR and Lillie's Furniture Gallerie (LFG) are partnering to raffle a living room furniture set (sofa, chair, two tables, rug and two pillows). The furniture will be displayed on the main Expo stage. Raffle tickets will be at the LFG booth; the drawing will occur on the main stage around 2:30 p.m. The winner does not need to be present to win. LFG will work with the winner to arrange for furniture pick-up.
Packed with Information for Current and Future Residents, and Small Businesses
The Expo will offer over dozens of workshops and over 125 exhibitors—including government agencies, nonprofit community organizations, lenders and realtors. It will provide invaluable information and guidance for:
Homeowners: Remodeling and repair demonstrations
Homebuyers: Purchasing assistance resources
Tenants: Knowing your rights
Seniors: Aging in place planning
Youth: Financial literacy training
Small Businesses: How to start and successfully grow a business
Also offered are FREE credit reports and credit counseling, as well as prizes and giveaways.
In essence, the Expo is a ONE STOP SHOP for all the resources you are looking for related to housing and community development.
Note: For a reasonable accommodation or interpretation, contact (202) 442-7251 or pamela.hillsman@dc.gov five days before the event.
Register Early Here
2019 Sponsors/Partners (as of 5/21/19)
Sponsors
Platinum
DC Housing Finance Agency
Gold
Capital Bank
Eagle Bank
Wells Fargo
Bronze
Dantes Partners / Faria Management
HomeFree USA
NHP Foundation
Primary Residential Bank
Victory Housing Inc.
Partners
Greater Washington Urban League
Bank on DC
DC Department of Insurance Securities and Banking
Media Sponsor
WHUR
Past Housing Expo and Home Shows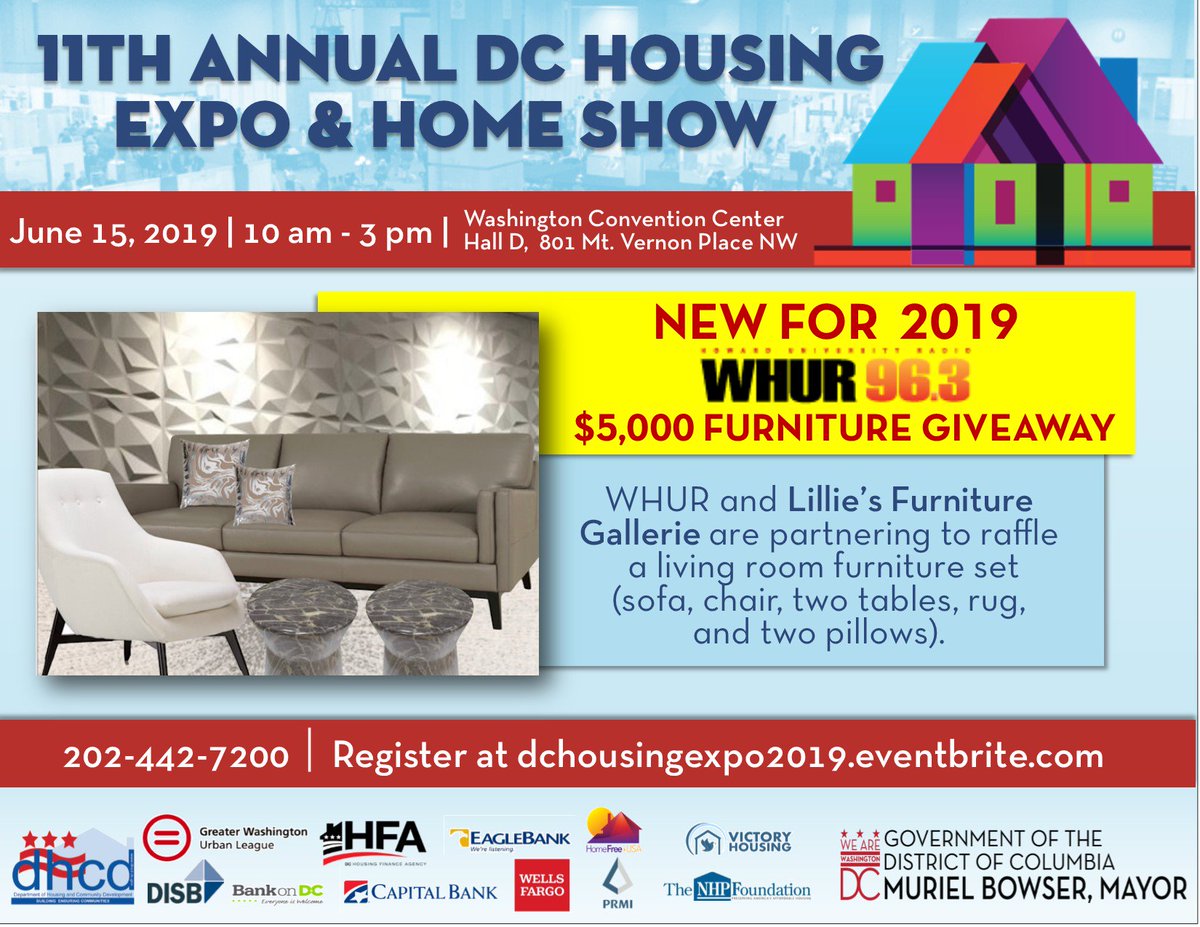 Register
https://www.eventbrite.com/e/11th-annual-dc-housing-expo-and-home-show-tickets-60838599890