Mayor Bowser Encourages Residents and Visitors to Celebrate DC's Vibrant Dining Scene with Summer Restaurant Week
SOURCE: DC.gov
Friday, August 9, 2019
(Washington, DC) – Today, Mayor Muriel Bowser is encouraging District residents and visitors to celebrate Summer Restaurant Week taking place Monday, August 12 through Sunday, August 18, 2019, hosted by the Restaurant Association Metropolitan Washington (RAMW). Summer Restaurant Week will feature an incredible lineup of the District's dining scene and celebrate the award-winning chefs, innovators, and mixologists.
"Metropolitan Washington Restaurant Week is always an exciting time in our city, drawing in residents and visitors to try something new, plan a night out with friends, and eat and play in the District," said Mayor Bowser. "It also celebrates the vibrancy of our small businesses as they create jobs for District residents and strengthen the economy of Washington, DC."
Offered at 206 restaurants across the District and more than 250 in total across the Metro region, RAMW's Summer Restaurant Week gives diners the opportunity to explore the local culinary community or revisit old favorites, with affordable three-course menus including $35 dinner, $22 lunch, and $22 brunch options. Guests can visit www.RWDMV.com for the full list of participating restaurants and their menus, as well as links to book reservations directly. Diners can opt in to RAMW's Diner Rewards Program at www.rwdmv.com to receive emails with exclusive deals from restaurants, gift card giveaways, and details on the city's hottest culinary events.
"We are lucky to have some of the best restaurants in the country right here in DC and across the Metropolitan region and Restaurant Week is such a great way to get to know some new places and revisit great ones," said Kathy E. Hollinger, President and CEO of the RAMW. "Book your tables today and experience so many talented chefs participating and great perks and promotions from our sponsors too."
To share and explore Summer Restaurant Week meals and fun times, guests can use the hashtag #RWDMV on Facebook, Instagram, and Twitter, as well as tagging RAMW. Follow RAMW at @ramwdc on Twitter, Facebook, and Instagram for the latest updates about Summer Restaurant Week.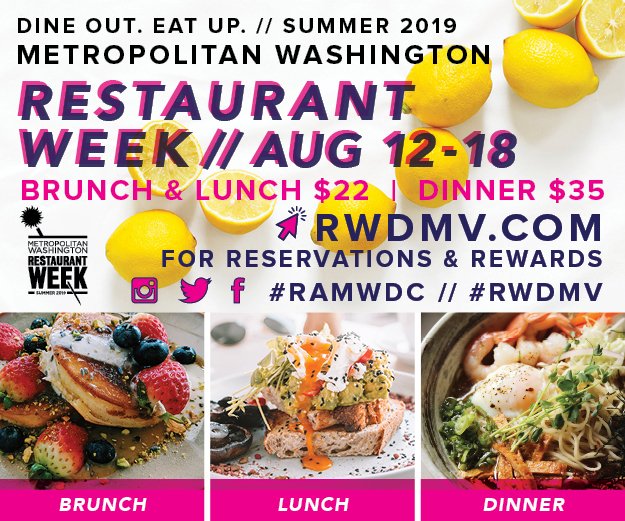 https://mayor.dc.gov/release/mayor-bowser-encourages-residents-and-visitors-celebrate-dcs-vibrant-dining-scene-summer