Volunteer at the 2023 Safeway Feast of Sharing at the Walter E. Washington Convention Center on November 22
Theo nguồn tin tiếng Anh trên trang mạng của Safeway hay events DC
Thanksgiving is a time for gratitude, fellowship, and for giving back to others. It's also a time to gather with friends and family to show how much we care.
Join us for a holiday celebration, Thanksgiving meal, live entertainment, free health screenings and community service exhibitors, a free clothing distribution, fun prizes and more.
Register to Volunteer Here:
*All volunteers must register
Wednesday, November 22, 2023
10 am-11 am: Senior Citizens Admission
11 am-1 pm: General Admission
9:30 am: Community Services and Health Expo, Clothing Distribution opens
11 am: Meal Seatings begin
Walter E. Washington Convention Center
801 Allen Y. Lew Place NW
Washington, DC 20001
Attendees will enter through the Mount Vernon Place front doors
Opportunity Details | Safeway Feast of Sharing 2023
Share on Facebook Share on Twitter
Opportunity Name:
Safeway Feast of Sharing 2023
Description:
Volunteer opportunities are filling up quickly! Hurry, and sign up now.
Thank you for your interest in volunteering for the 2023 SAFEWAY FEAST OF SHARING!
This FREE Thanksgiving Meal is served by dedicated volunteers like you to nearly 5,000 members in our community. There are various volunteer shifts and two volunteer positions on November 20, 21, and 22, 2023, beginning as early as 8 a.m. and concluding at 5 p.m.
Please read all of the following information before signing up!
NOTE:
• All volunteers must be 12 years or older. Minors must be accompanied and supervised by a parent or guardian who can acknowledge the liability agreement below on their behalf.
• Food Prep volunteers must be age 18 or older.
If volunteering as part of a group, each volunteer MUST register separately to acknowledge the liability agreement. Please do not use the group registration feature. Instead, indicate what group you are volunteering within the "note" field of the registration application.
By registering for this event, I agree to this liability release herein:
LIABILITY RELEASE:
I acknowledge that I have voluntarily agreed to participate in the Safeway Feast of Sharing, scheduled for November 22, 2023 (the "Activity").
I am voluntarily participating in this Activity and hereby agree to accept and assume any and all risks of injury, death, or property damage arising from this Activity.
In consideration of the opportunity to participate in this Activity, I, for myself, my heirs, executors, survivors, and assigns, release and forever discharge Safeway Inc. and The Salvation Army, a Georgia Corporation, and their respective employees, contractors, agents, officers, directors, shareholders, parents, subsidiaries and affiliates (collectively referred to as the "Released Parties") from any and all claims, demands, liabilities, costs (including attorneys' fees), expenses, damages and causes of action, known or unknown, now or in the future arising from or related to my participation in the Activity. I fully understand and acknowledge that I may suffer bodily injury, death, or property damage as a result of my participation in the Activity.
I agree that the Released Parties will not be liable to me, my heirs, executors, survivors and assigns in any respect for any injury or damage to my person, my death, or damage to my property arising out of or related to my participation in the Activity and I will indemnify, defend and hold the Released Parties harmless from any and all claims arising out of my participation in the Activity.
I acknowledge that I am physically capable or able to participate in the Activity. I freely and voluntarily assume the risk of death, personal injury, or property damage in connection with my participation in the Activity including traveling to or from the site where the Activity is taking place.
I have carefully read this release and fully understand its contents. I am aware that this is a release of liability for Safeway Inc. and the other Released Parties and sign this release of my own free will.
We truly appreciate your service!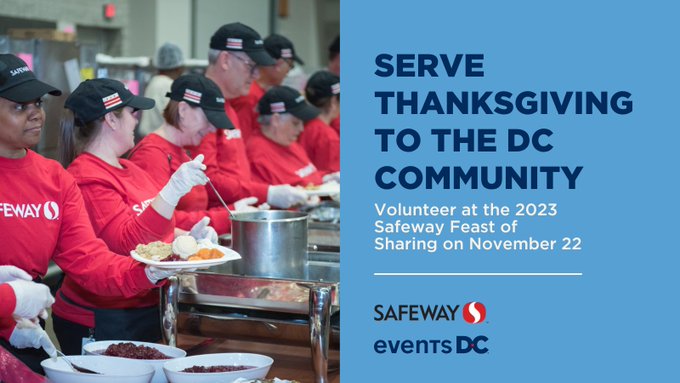 Interested in volunteering? Click here to register.
https://www.cervistech.com/acts/console.php?console_id=0355&console_type=event_list&res_code=CsigwW&ht=1&linkId=246553237
Note: We are not responsible for typo error, price change, substitute item, or available of item from online ads.
Lưu ý: Chúng tôi không chịu trách nhiệm về lỗi ấn, thay đổi giá, hàng thay thế, hoặc có sẵn mặt hàng quảng cáo. l