Cherished seasonal traditions, free light displays and expansive holiday markets make Washington, DC the perfect winter destination
SOURCE: Destination DC
Những truyền thống theo mùa được trân trọng, màn trình diễn ánh sáng miễn phí và các phiên chợ nghỉ lễ mở rộng khiến Washington, DC trở thành điểm đến mùa đông hoàn hảo
WASHINGTON, DC – Destination DC (DDC) là tổ chức tiếp thị điểm đến chính thức của Washington, DC. Destination DC mời du khách trong kỳ nghỉ mùa đông lên kế hoạch cho một chuyến đi khó quên và tiết kiệm ngân sách đến thủ đô của quốc gia. Từ những địa điểm lấp lánh như Cây Giáng sinh Quốc gia cho đến lễ hội mua sắm địa phương, các buổi biểu diễn cổ điển và các ưu đãi khách sạn hấp dẫn, đây là mùa để tạo nên những kỷ niệm ở DC. Khám phá thêm tại washington.org/winter.
"Cho dù bạn thích trượt băng ở National Mall hay vở ballet 'The Nutcracker', nhâm nhi trà tại một khách sạn cổ điển hay một ly cocktail ấm áp tại một quán bar tạm thời thì chỉ có một nơi để làm tất cả những điều đó," Elliott L. Ferguson II (Chủ tịch kiêm Tổng Giám đốc DDC) nói. "Với rất nhiều cách để tiết kiệm, đây là thời điểm tuyệt vời nhất trong năm để đến Washington, DC."
Bảo tàng Phụ nữ Nghệ thuật Quốc gia hùng vĩ mở cửa trở lại vào cuối tháng 10 với bổ sung thêm nhiều lý do để ghé thăm vào mùa đông này. Westin Washington và DC Downtown là 2 địa điểm lưu trú mới nằm ở trung tâm đã được đổi thương hiệu cùng với Royal Sonesta Capitol Hill cao cấp nằm trong số những khách sạn cung cấp các ưu đãi theo mùa.
Ngoài ra trong mùa đông năm nay thì DDC sẽ triển khai chiến dịch quảng cáo mới: "There's Only One DC". Thương hiệu chính thức ra mắt vào ngày 1 tháng 11. Chiến dịch quảng cáo mới định vị DC là hoàn toàn độc đáo, làm nổi bật sự đa dạng về trải nghiệm và những điều miễn phí để làm.
​
Send feedback
Side panels
History
Saved
Contribute
Cherished seasonal traditions, free light displays and expansive holiday markets make Washington, DC the perfect winter destination
WASHINGTON, DC – Destination DC (DDC), the official destination marketing organization for Washington, DC, invites travelers in the holiday spirit to plan an unforgettable and budget-friendly trip to the nation's capital. From sparkling sites like the National Christmas Tree to festive local shopping, classic performances and enticing hotel deals, 'tis the season to make memories in DC. Discover more at washington.org/winter.
"Whether you prefer ice skating on the National Mall or 'The Nutcracker' ballet, sipping tea at a classic hotel or a warm cocktail at a pop-up bar, there's only one place to do it all," said Elliott L. Ferguson, II, president and CEO, DDC. "With so many ways to save, it's the most wonderful time of the year to come to Washington, DC."
The majestic National Museum of Women in the Arts, which reopened in late October, adds to the many reasons to visit this winter. Two new centrally located places to stay, the rebranded Westin Washington, DC Downtown and upscale Royal Sonesta Capitol Hill, are among the hotels offering seasonal deals.
In addition, this winter, DDC is rolling out its new advertising campaign: "There's Only One DC." The branding, which officially launched Nov. 1, positions DC as wholly unique, spotlighting its diversity of experiences and free things to do.
Dazzling Displays
National Christmas Tree
The National Christmas Tree, free to enter, enters its second century on the White House Ellipse. It's surrounded by trees decorated with handmade ornaments from 58 U.S. states and territories. Nov. 30 lighting airs on CBS Dec. 15; site is open Dec. 2-Jan. 1.
National Menorah Lighting
Hannukah begins with the lighting ceremony of the world's largest menorah on the White House Ellipse, which greets all with latkes, doughnuts, menorah kits and dreidels. Dec. 7-15
CityCenterDC's Holiday Tree
The luxury shopping destination celebrates a decade of displaying a jaw-dropping 75-foot tree with over 155,000 lights and 4,500 ornaments, as well as gorgeous décor along Palmer Alley. Nov. 20-Jan. 8
U.S. Capitol Christmas Tree
A 53-year tradition on the West Lawn, this year's tree comes from the Monongahela National Forest in West Virginia. Nov. 28-Jan. 1
ZooLights
Environmentally friendly LED lights and dozens of glowing animal lanterns transform Smithsonian's National Zoo into a winter wonderland. Note that a $6 admission is required this year, supporting animal care and conservation science. Nov. 24-Dec. 30
Season's Greenings at the U.S. Botanic Garden
Tour America's magnificent landscapes recreated in plants. Nov. 23-Jan. 1
Enchant
Expect plenty of Instagram-friendly settings and holiday spirit at this one-of-a-kind installation at Nationals Park. Nov. 24-Dec. 31
Georgetown Glow
Set against the historic backdrop of DC's oldest neighborhood, works by international artists will be on display for this free outdoor public light art experience. Dec. 1-Jan. 7
Tudor Lights
Stroll through Tudor Place Historic House and Garden, decked out with holiday lights, plus take part in guided candlelit tours, holiday teas and a holiday wreath-making workshop. Dec. 2-15
Festive hotels
The historic Willard Intercontinental famously transforms into a magical holiday wonderland complete with nightly caroling. The chic Riggs Hotel boasts a bejeweled tree by a celebrated designer. The Conrad Washington DC's decorations include an Instagram-worthy mistletoe arch.
Holiday Events and Performances
A Winter's Tale
A tribute to the magic of storytelling at the Folger Theatre, Shakespeare's romance presents a rich tapestry of love, strife, hope, human folly, and resurrection. Nov. 4-Dec. 17
A Christmas Carol
It wouldn't be the holiday season without the Charles Dickens classic at Ford's Theatre. Join the ghosts of Christmas Past, Present, and Future as they lead Ebenezer Scrooge on a journey of transformation. Nov. 17-Dec. 31
The Washington Ballet's The Nutcracker
Experience the magic of this lasting tradition at the Warner Theatre. The reimagined ballet is set amidst the charming streets of Georgetown and cherry blossom trees. Dec. 2-30
Holiday Boat Parade
This iconic DC event features over 60 beautifully decorated boats parading along the Washington Channel at The Wharf. Dec. 2
National Symphony Orchestra's 'A Holiday Pops!' with Norm Lewis
Norm Lewis lights up the festively decorated Kennedy Center Concert Hall with selections from his best-selling Christmas album. Dec. 8-9
Handel's Messiah
Join the Washington National Cathedral Choir and Baroque Orchestra for Handel's beloved Messiah. Dec. 8-10
Step Afrika!'s Magical Musical Holiday Step Show
Head to Arena Stage for the world's first holiday show incorporating the African American tradition of stepping. Dec. 8-17
Japanese bell dedication ceremony
Hear the resonant tolls of a sacred Japanese temple bell, cast in 1789, ring out for the first time at the U.S. National Arboretum. Jan. 1
Winter Activities and Dining
Ice skate around the city
Public ice skating rinks can be found throughout DC, including the National Gallery of Art (opens Nov. 20), Washington Harbour (Nov. 17), The Wharf (Nov. 22) and Canal Park at Capitol Riverfront (Nov. 11).
Enjoy hot and cozy drinks
Enjoy local drafts and warm cocktails in the glow of fire pits at Wunder Garten, Dirty Habit and one of the city's new all-season rooftops. Experience Washington, DC's original private igloos at the Next Whisky Bar terrace in the Watergate Hotel. Roast s'mores at The Wharf's giant Camp Wharf firepit.
Indulge in afternoon teas
Holiday teas are offered at luxury hotels including Peacock Alley at the Willard InterContinental, The Hay-Adams and St. Regis. The Four Seasons hosts four special teddy bear teas. Children are encouraged to wear Frozen-themed attire to the Fairmont Washington, D.C. Georgetown's Frozen Festive Afternoon Tea.
Holiday Shopping
Downtown Holiday Market
The beloved market, free to enter, stretches across two blocks in Penn Quarter. Scope out eclectic crafts from more than 70 pop-up tents, including minority-owned businesses, with light bites and live music. Nov. 17 – Dec. 23
The Holly Days
An Eastern Market Main Street tradition, enjoy shopping, dining and window displays. Eastern Market is celebrating its 150th anniversary this month. Nov. 25-Dec. 31
Christkindlmarkt
Shop small and stroll through the Heurich House Museum's German-style market in the castle garden. Dec. 1-3
Select Seasonal Hotel Deals
Find more and book at stay.washington.org.
Whoville Hideout – The Hotel Washington offers Grinch-themed rooms with holiday amenities, valet parking and holiday DVDs and books. Valid through Dec. 31.
Holiday Spirit – The AC Hotel Washington, DC Convention Center offers a $20 Downtown Holiday Market gift certificate and two cocktails in the AC Lounge. Valid through Dec. 22.
Grand Opening – Receive 10,000 bonus Marriott Bonvoy points per stay at the rebranded Westin Washington, DC Downtown. Valid through Jan. 4.
Royal Debut – Be among the first to experience the new Royal Sonesta Washington, DC Capitol Hill with 50 percent off the third night when booking a two-night stay.
Sakura Club – When you book two nights in an exclusive Sakura Club room at the Conrad DC, you'll receive the third night free. Valid through Dec. 31.
Greener Getaway – The Marriott Marquis offers an eco-friendly getaway with a reusable travel mug and straws, as well as a credit for two compost cocktails in the Lobby Bar. Valid through Feb. 29.
Digital Assets for Use
Download images here.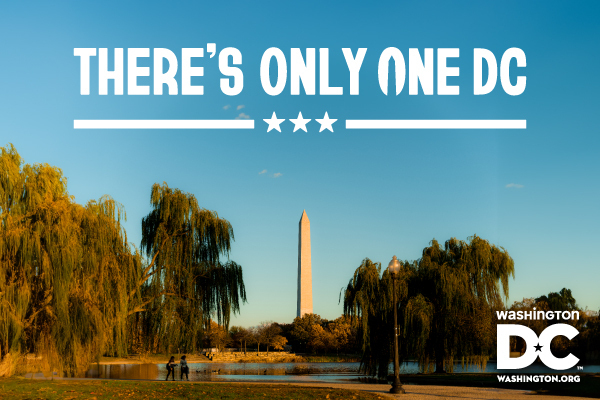 https://washington.org/press/washington-dc-shines-bright-holiday-season