Inventing Utamaro: A Japanese Masterpiece Rediscovered
SOURCE: The Freer|Sackler
WHAT: Inventing Utamaro: A Japanese Masterpiece Rediscovered
WHEN: Sunday, April 9, 2017 at 12 pm & 2 pm
WHERE: S. Dillon Ripley Center in Lecture Hall
Gallery Talk: Curator Julie Nelson Davis on Inventing Utamaro
Gain insight into the work of artist Kitagawa Utamaro with a curator of the exhibition Inventing Utamaro: A Japanese Masterpiece Rediscovered.
April 8–July 9, 2017
Not seen together since 1879, three large-scale works by the legendary Japanese artist Kitagawa Utamaro are reunited in Inventing Utamaro. The exhibition showcases Moon at Shinagawa from the Freer|Sackler along with Snow at Fukagawa from the Okada Museum of Art and Cherry Blossoms at Yoshiwara from the Wadsworth Atheneum Museum of Art. Depicting the themes of snow, moon, and flowers, the triptych was last shown in Japan in 1879. Nearly 140 years later, the Freer|Sackler is the only location at which all three original pieces will be on view.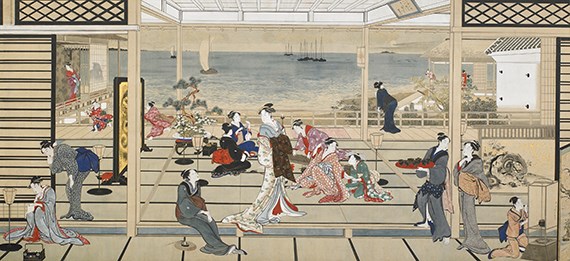 http://www.asia.si.edu/events/allevents.asp?trumbaEmbed=view%3Dseries%26seriesid%3D1353523