2019 National Book Festival Offers Adventures for Families, Readers of All Ages
Theo nguồn tin tiếng Anh trên trang mạng của The Library of Congress
AUGUST 21, 2019 (REVISED AUGUST 27, 2019)
2019 National Book Festival Offers Adventures for Families, Readers of All Ages
Festival Will Feature Wide Variety of Free Activities and Programs on Aug. 31
Press Contact: Sheryl Cannady (202) 707-6456
Website: 2019 Library of Congress National Book Festival
Visitors explore family friendly activities on the expo floor at the National Book Festival, September 1, 2018. Photo by David Rice
An exciting lineup of more than 140 authors, poets and illustrators – including nearly 50 who write for children and teens – as well as readings, trivia, costumed characters and interactive exhibits will provide a wide variety of family-friendly activities at the 2019 Library of Congress National Book Festival. The 19th festival will be held Saturday, Aug. 31, from 9 a.m. to 8 p.m. (doors open at 8:30 a.m.) at the Washington Convention Center. The event is free and open to everyone.
This year's festival will include two stages for children's authors, one for teens and a variety of activities on the Concourse and Lower Level presented by the Library of Congress and festival sponsors. Authors for children and teens appearing at the festival include Mac Barnett, Holly Black, R. J. Palacio, Linda Sue Park, Jon Scieszka, Raina Telgemeier, Renée Watson, to name a few. Families can pick up a children's guide to the festival at the information booth on the Lower Level and both children's stages to plan a day of activities. The guide, which will also be available online at loc.gov/bookfest, was created by the Mensa Foundation and the Library to provide tips on what to see and do.
Here are some of the activities presented by the Library and festival sponsors:
Library of Congress Pavilion and Areas
Attendees to the Library's Pavilion will hear exciting presentations that will include the following:
National Book Festival artist, Marian Bantjes, will be interviewed.
Michael Ford, author of "North Mississippi Homeplace," will talk about his work and share some excerpts from the film he shot in the 1970s in the northern Mississippi hill country. His friend, musician Mark Muleman Massey, will close out the presentation with a live acoustic Delta blues session.
George Thuronyi, the Pavilion emcee, will challenge and educate attendees with fun Library and Copyright trivia, and other activities.
The Library of Congress Area will host a variety of exhibits, from many Library divisions and reading rooms to Library exhibitions and more. There also will be child-friendly activities, such as zine-making and coloring activities sponsored by the National Library Service for the Blind and Physically Handicapped, as well as a By the People Transcription Café and much more.
Library Stage (room 150) will host all new programming. Presentations include a tour of the Jefferson Building; Veterans History Project and Copyright Office programs; and a series of "Read and Meet Sessions," moderated by Library subject matter experts, which will allow visitors to discuss what they are reading. The closing presentation will feature a poet, photographer, blogger and author/historian, who will discuss how they use Library of Congress resources in their work and inspire creativity.
Parade of the States
Attendees can meet representatives from their home states and learn about each state's literary heritage from 8:30 a.m. until 5 p.m. in the Parade of the States. The Institute of Museum and Library Services (IMLS), with additional funding from the National Endowment for the Humanities (NEH), makes it possible for an affiliate of the Library's Center for the Book in each state, the District of Columbia, Puerto Rico and the U.S. territories to participate in the festival. Additional support is provided by the Chief Officers of State Library Agencies.
A map-brochure for young people, available at the IMLS, NEH and Junior League of Washington (JLW) tables in the Parade of the States, offers a fun and educational activity. Young people are encouraged to visit all 53 tables to collect a unique stamp. Those who do will receive a prize from IMLS. Learn more about each state's writing traditions and read about those states with guidance from the brochure's list of "53 Great Reads."
On the Parade of the States stage, IMLS invites people of all ages to learn how anyone who wants to can be a librarian, as a diverse set of current and future librarians talk about their chosen path. Visitors can join in to experience a unique story time session by librarians serving differently abled populations, demonstrating how libraries are reaching out to include all people from their communities.
Institute of Museum and Library Services
As the chief sponsor of the Parade of States, the Institute of Museum and Library Services will showcase how libraries are so much more than books. Visitors will learn about innovative programs funded by IMLS in libraries across the nation, as well as the important role of state libraries. In addition to being a prize destination for completing the Parade of States activity, the IMLS booth invites visitors to make their mark on a map of the United States and strike a pose at a photo booth. On the Parade of the States stage, IMLS invites people of all ages to learn how anyone who wants to can be a librarian. Join in for a unique story time session by librarians serving differently abled populations, to demonstrate how libraries are reaching out to include all people from their communities.
National Endowment for the Humanities
The NEH booth will highlight the 100th anniversary of the fight to pass the 19th Amendment. Visitors can pick up a related issue of Humanities magazine and suffragette buttons and stickers. They can also take selfies with cutouts of Alice Paul and Anna Julia Cooper, two leaders in the fight for women's suffrage. Festival cutout favorites Alexander Hamilton, Jane Austen, and Frederick Douglass are also making a return appearance, along with posters, stickers and bookmarks. NEH is also sponsoring the "Understanding Our World" stage. NEH chairman Jon Parrish Peede will interview Elaine Pagels, a scholar of religion and a National Humanities Medalist, about her new book, "Why Religion?: A Personal Story." Anne-Imelda Radice, special adviser to the chairman and director, Office of Public Programs, will be in conversation with David Epstein, author of "Range: Why Generalists Triumph in a Specialized World."
The Washington Post
Celebrate literature with The Washington Post through an exciting series of daylong activities. Families are invited to attend animated readings by local children's book authors every hour from 10 a.m. to 2 p.m. and pick up color-your-own postcards throughout the day. The Post's mascot, Ned the Newshound, will make an appearance from 11:30 a.m. to 1:30 p.m. to take photos with festivalgoers. The Lily, a women-focused publication of The Post, will host author Angie Kim, for a lively discussion about her book, "Miracle Creek" from 2 to 2:45 p.m. Festivalgoers can test their travel knowledge during trivia hour, hosted by The Post's new travel destination, By The Way, from 3 to 3:45 p.m. The Post's Press Freedom Partnership, an initiative that highlights organizations promoting press freedom, will host Post Global Opinions writer and author Jason Rezaian from 4 to 5 p.m. for a discussion about his book, "Prisoner," followed by a book signing. Additional events are scheduled throughout the day. As part of the Post's longstanding partnership with the festival, more than 20 Washington Post journalists and editors will be participating in author programming throughout the festival. A special stand-alone edition of "Book World" covering the daylong programming is available at information booths.
Wells Fargo
For 20 years, Wells Fargo has supported early childhood literacy through their Reading First program. Fun games and readings will take place throughout the day in the lower level of the convention center from 10 a.m. to 7 p.m. Families can compete to see who's the fastest at the bouncy horse racing game; have fun with financial health activities; make their own bookmark in the craft area; get their picture taken in the classic Wells Fargo stagecoach; and help color the Wells Fargo wall. Since 2011, Wells Fargo has been a National Book Festival charter sponsor and the sponsor of the History & Biography stage.
National Endowment for the Arts
The National Endowment for the Arts will provide family-friendly activities in its space on the lower level of the convention center. At both 10 a.m. and 1:30 p.m., Mary Anne Carter, chairman of the National Endowment for the Arts, will give a special pre-publication reading from "Dr. Seuss's Horse Museum." Throughout the day, artists from Imagination Stage will use storytelling, audience participation and song to perform vignettes from popular children's books "The Very Hungry Caterpillar"; "Naked Mole Rat Gets Dressed"; "The Lion, the Witch and the Wardrobe"; and "Zomo the Rabbit."
The National Endowment for the Arts is also supporting the Poetry & Prose stage, which will present a panel discussion on "How to Raise a Reader" at 4:55 p.m. Participants include authors of the book by the same name, Pamela Paul and Maria Russo, with Linda Sue Park ("Nya's Long Walk: A Step at a Time"), Jon Scieszka ("AstroNuts Mission One: The Plant Planet") and Renée Watson ("Watch Us Rise"). Mary Anne Carter will introduce this discussion.
PBS
PBS will celebrate the many companion books of Ken Burns's most popular public television specials like "Jazz," "The Civil War" and "The Roosevelts." His next film is "Country Music," which chronicles the rich and colorful history of America's most popular music and the singers and songwriters who captivated, entertained and consoled listeners throughout the 20th century. Based on the upcoming eight-part PBS series premiering on-air nationwide and online Sept. 15, this new hard cover will be available for purchase Sept. 10. Among those featured in current or historical interviews are Garth Brooks, the Carter and Cash families, Patsy Cline, Merle Haggard, Loretta Lynn, Dolly Parton, Charley Pride, Hank Williams, Willie Nelson and so many more. Festivalgoers can visit the PBS activation space for great photo-ops and to spin the Ken Burns trivia wheel for prizes. Across the hall, PBS Books will live-stream interviews with festival authors from 11 a.m. to 5 p.m. at PBSBooks.org and on Facebook Live. Coverage will be hosted by PBS Books executive producer Rich Fahle and Lindsay Ellis from the PBS Digital Studios "It's Lit!" miniseries.
Pizza Hut BOOK IT! Program
Visitors to the BOOK IT! booth will have a chance to take a keepsake photo that will also help create a billboard-sized work of art. In addition to the mosaic wall, they will feature hourly giveaways of BOOK IT! shirts, children's books and more will be offered. Pizza Hut's author partner, Tom Angleberger, will join in for read-a-louds, activity sessions and book signing.
Bookshare
Festivalgoers will experience reading in a whole new way and pick up giveaways like drawstring tote bags and stylus pens. Bookshare is an ebook library that makes reading easier. Kids and adults with dyslexia, blindness, cerebral palsy and other reading barriers can access a huge collection of titles in formats like audio, audio + highlighted text, large font and digital braille and customize their reading experience in ways that work for them. Bookshare is free for U.S. students with qualifying disabilities and less than $1 per week for unlimited reading for qualified adults.
Library of Congress Federal Credit Union
The Library of Congress Federal Credit Union will be on hand to celebrate the many ways reading enriches our lives and to salute those who open the world of reading to our children and to adults. from librarians, teachers, parents, family members, volunteer reading coaches, to anyone who ever sat down with a new reader and opened the door to the many worlds accessible only through books.
Planet Word
Planet Word, the world's first museum of words and language, is opening in D.C. next year. Visitors to the Planet Word booth can learn more about the museum and its unique interactive, immersive experiences. Festivalgovers can try their hand at creating blackout poetry, explore the festival to complete Book Festival Bingo, put themselves inside a 3-D pun and snag some exclusive Planet Word swag. From 2 to 3 p.m., they can tap into their creativity with a found poetry workshop and create their own poem to take with them or display in Planet Word's mini gallery.
Scholastic
Scholastic, the world's largest publisher and distributor of children's books, will host a variety of fun activities for the whole family at this year's festival. Attendees will get to enjoy giveaways and read-alouds of exciting new books and take photographs at the custom Graphix photo booth. Clifford the Big Red Dog is also set to make an appearance.
C-SPAN
At the National Book Festival, Book TV will interview nonfiction authors live from its call-in set in the grand lobby and also will cover authors from the Main Stage and Understanding Our World stage. Again this year, C-SPAN and the Library of Congress have partnered to provide the official tote bag of the National Book Festival. Since 1998, Book TV has covered thousands of authors and hundreds of book festivals, including the National Book Festival since its founding. The television network features 48 hours of nonfiction books and author programs every weekend on C-SPAN2.
The New York Times
For the second year in a row, The New York Times will have a booth at the festival. Visitors will be able to try on a pair of virtual reality goggles and take their own giant leap on the moon and pick up copies of NYT for Kids.
These are just some of the great activities planned for the National Book Festival. Follow the festival on Twitter @librarycongress with hashtag #NatBookFest, and subscribe to the National Book Festival Blog at loc.gov/bookfest or download the National Book Festival app for all the latest information.
The National Book Festival is made possible by the generous support of private- and public-sector sponsors who share the Library's commitment to reading and literacy, led by National Book Festival Co-Chairman David M. Rubenstein. Charter sponsors are the Institute of Museum and Library Services, The Washington Post and Wells Fargo; Patron sponsors are the James Madison Council, the National Endowment for the Arts and the National Endowment for the Humanities. The Champions are Thomas V. Girardi, the John W. Kluge Center at the Library of Congress, PBS and Pizza Hut BOOK IT! Program; and, in the Friends category, Booklovers Circle Members, Bookshare – a Benetech initiative, Buffy Cafritz, Marshall B. Coyne Foundation Inc., Joseph and Lynn Deutsch, Embassy of Australia, Embassy of Canada, Embassy of Germany, Embassy of Ireland, Embassy of Latvia, Embassy of Peru, Harper Lee Prize for Legal Fiction administered by The University of Alabama School of Law, The Hay-Adams, Inter-American Development Bank, The Junior League of Washington, Andy King, Leon Levy Center for Biography (CUNY), Library of Congress Federal Credit Union, Mensa Foundation, Mexican Cultural Institute, Timothy and Diane Naughton, Planet Word, Nora Roberts Foundation, Scholastic, Small Press Expo (SPX), Spain Arts & Culture and Western Writers of America; Media Partners are C-SPAN2's Book TV, The New York Times, NPR and PBS Books. Those interested in supporting the National Book Festival can contact the Library at devofc@loc.gov.
The Library of Congress is the world's largest library, offering access to the creative record of the United States — and extensive materials from around the world — both on-site and online. It is the main research arm of the U.S. Congress and the home of the U.S. Copyright Office. Explore collections, reference services and other programs and plan a visit at loc.gov; access the official site for U.S. federal legislative information at congress.gov; and register creative works of authorship at copyright.gov.
###
PR 19-080
2019-08-21
ISSN 0731-3527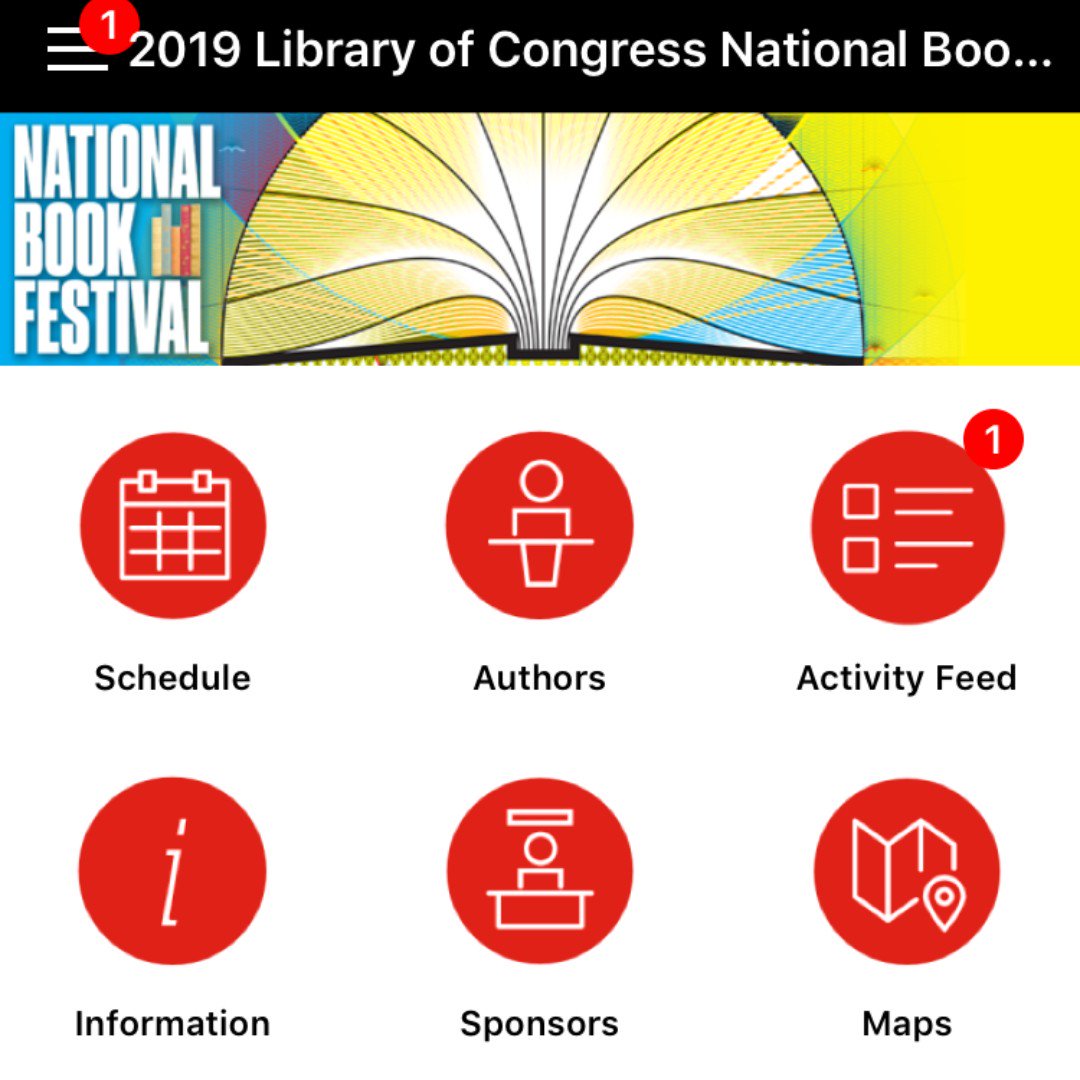 https://www.loc.gov/item/prn-19-080/
Note: We are not responsible for typo error, price change, substitute item, or available of item from online ads.
Lưu ý: Chúng tôi không chịu trách nhiệm về lỗi ấn, thay đổi giá, hàng thay thế, hoặc có sẵn mặt hàng quảng cáo. l