2023 Lunar New Year Cooking Demonstration at Arthur M. Sackler Gallery
SOURCE: Smithsonian American Art Museum
WHAT: Lunar New Year: Holiday-Inspired Cooking Demo
WHEN: Saturday, January 21, 2023 from 1 PM to 2 PM
WHERE: 1050 Independence Ave SW, Washington, DC 20560
Sponsor Asian Art Museum
Venue Arthur M. Sackler Gallery
Event Location Sackler flex space
Cost Free
Categories Culinary Arts, Demonstrations
Details
Bounce into the Year of the Rabbit for a special Lunar New Year cooking demonstration! In this program hosted by the Smithsonian's National Museum of Asian Art, award-winning DC chefs and culinary trailblazers Danny Lee and Scott Drewno will reflect on family traditions with holiday-inspired Korean and Chinese cooking demonstrations. They'll provide unfettered expertise on the modern cooking techniques you can use to recreate these beloved dishes.
This program is part of the National Museum of Asian Art's Lunar New Year 2023 Celebration.
Featured chefs include:
Danny Lee (The Fried Rice Collective, CHIKO, Anju, Mandu)
Scott Drewno (The Fried Rice Collective, CHIKO, Anju)
About the chefs:
Danny Lee
In 2006, Danny and his mother, Yesoon, decided to open their own restaurant, one that played to their strengths and represented their culinary traditions and culture. They opened Mandu, DC's first full-service Korean restaurant, near Dupont Circle. Five years later, the family opened a second location in DC's Mount Vernon Triangle neighborhood.
In 2017, Lee started a new restaurant group with Chef Scott Drewno called The Fried Rice Collective. The group's first restaurant, CHIKO, opened in July 2017 on Barrack's Row in Washington, DC. CHIKO serves modern Chinese and Korean cuisine in a fun and casual environment. CHIKO has since expanded with additional locations in DC, Virginia, Maryland, and Encinitas, CA.
CHIKO has been awarded three-star ratings from both the Washington Post and Washingtonian, and was also nominated as a James Beard Award semifinalist for Best New Restaurant in the country in 2018. The Restaurant Association of Metropolitan Washington awarded CHIKO Best New Restaurant at the 2018 RAMMY Awards as well as Best Casual Restaurant in 2020.
Scott Drewno
Chef Scott Drewno was raised in the heart of New York's Finger Lakes wine region, a rural area known for its vineyards and family-owned farms. Watching his mother turn fresh, seasonal produce from local farm stands into bubbling pies and cobblers first piqued his interest in cooking and planted the seed for Drewno's culinary ambition.
Drewno joined the Wolfgang Puck Fine Dining Group in 1998. At Chinois, he learned to meld French cooking techniques with vibrant Asian flavors, and at Spago, he came to understand the importance of beginning with only the finest ingredients. Drewno then furthered his knowledge and solidified his passion for Asian cuisines at Jean-Georges Vongerichten's Vong and Stephen Hansen's Ruby Foo's. He also serves on the Board of the RAMW and is an Honorary Board Member of the DC Food & Beverage Collective.
Drewno and The Fried Rice Collective decided to open a second concept in 2019. Anju, a sophisticated amalgam of traditional Korean flavors and modern cooking techniques, was recently named the number one best restaurant in DC by Washingtonian. Anju has been featured in several national and local publications, including Food & Wine, Travel + Leisure, Forbes, Wall Street Journal, Men's Health, Lucky Peach, Zagat, Washington Post, Washingtonian, and many more.
In 2022, Scott and his partner were awarded Restaurateur of the Year by the Restaurant Association Metropolitan Washington.
Image: Danny Lee and Scott Drewno
Tết Nguyên đán: Trình diễn nấu ăn lấy cảm hứng từ ngày lễ
THỜI GIAN: Thứ Bảy, ngày 21 tháng 1 năm 2023 từ 1 giờ chiều đến 2 giờ chiều
Ở ĐÂU: 1050 Independence Ave SW, Washington, DC 20560
Nhà tài trợ Bảo tàng Nghệ thuật Châu Á
Địa điểm Phòng trưng bày Arthur M. Sackler
Địa điểm sự kiện Không gian linh hoạt Sackler
Chi phí miễn phí
Hạng mục Nghệ thuật ẩm thực, Trình diễn
Thông tin chi tiết
Bước vào năm con thỏ để tham gia một buổi trình diễn nấu ăn đặc biệt cho Tết Nguyên Đán! Trong chương trình này do Bảo tàng Nghệ thuật Châu Á Quốc gia Smithsonian tổ chức, các đầu bếp DC từng đoạt giải thưởng và những người tiên phong trong ẩm thực Danny Lee và Scott Drewno sẽ phản ánh về truyền thống gia đình với các màn trình diễn nấu ăn của Hàn Quốc và Trung Quốc lấy cảm hứng từ ngày lễ. Họ sẽ cung cấp kiến thức chuyên môn không giới hạn về các kỹ thuật nấu ăn hiện đại mà bạn có thể sử dụng để tái tạo những món ăn được yêu thích này.
Chương trình này là một phần trong hoạt động Chào mừng Tết Nguyên đán 2023 của Bảo tàng Nghệ thuật Châu Á Quốc gia.
Các đầu bếp nổi bật bao gồm:
Danny Lee (The Fried Rice Collective, CHIKO, Anju, Mandu)
Scott Drewno (The Fried Rice Collective, CHIKO, Anju)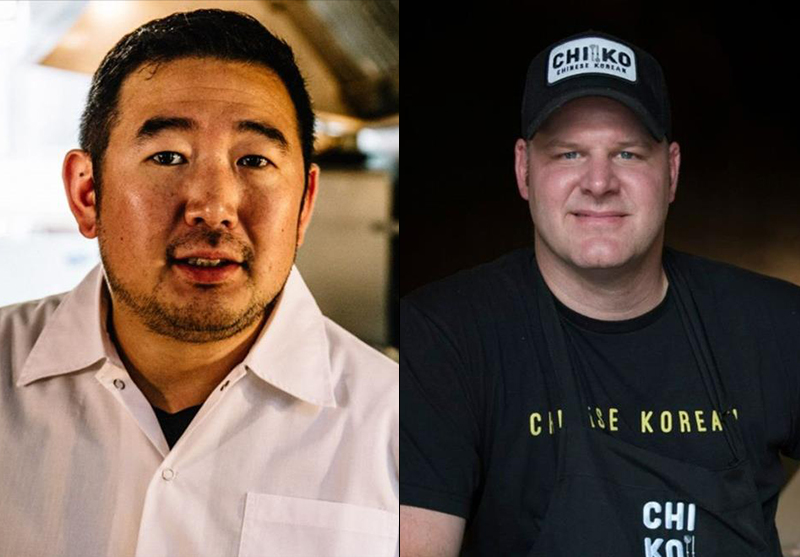 https://www.si.edu/events?trumbaEmbed=view%3Devent%26eventid%3D163790392