FREE martial arts movie Screening of "Method Man" with live music by Shaolin Jazz at Songbyrd Record Cafe and Music House on August 23 in 2016
The creators of SHAOLIN JAZZ proudly present a unique event catered to lovers of Martial Arts flicks, the music inspired by the films, and everything else in between…CAN I KICK IT? Every 4th Tuesday of the month we screen a classic martial arts movie while a soundtrack of Hip-Hop, Funk, Soul and cinema soundbites are mixed live by DJ 2-Tone Jones. SHAOLIN JAZZ Art and additional visuals will also be on display.
Join us on Tuesday, August 23rd at Songbyrd Music House for the next edition of CAN I KICK IT? as we'll be screening a Wu-Tang Clan cult classic film that inspired the name of one of their most recognizable members……Method Man (starring Casanova Wong). And in tribute to Johnny Blaze himself, DJ 2-Tone Jones will be scoring the film with an all-Method Man music set! #MonthOfTheMan
This month's movie trivia is sponsored by Words Beats & Life, Inc (WBL). WBL is a non-profit organization based in Washington, DC that uses Hip Hop to empower individuals and communities. For more information go to www.wblinc.org.
Tuesday, August 23rd, 2016
6pm-10pm/Film begins at 7pm
Songbyrd Music House 2477 18th St NW (Adams Morgan)
Screening "Method Man" (a.k.a. Avenging Boxer)
Drink + Food Specials
Movie Trivia & Merch courtesy of Words Beats & Life, Inc.
DJ 2-Tone Jones spinning an all Method Man soundtrack for the film
For additional info: shaolinjazz.com / twitter: @SHAOLIN_JAZZ37 / IG: @shaolinjazz
WHEN: Tuesday, August 23, 2016 from 6:00 PM to 10:00 PM (EDT) – Add to Calendar
WHERE: Songbyrd Record Cafe and Music House – 2475 18th Street Northwest, Washington, DC 20009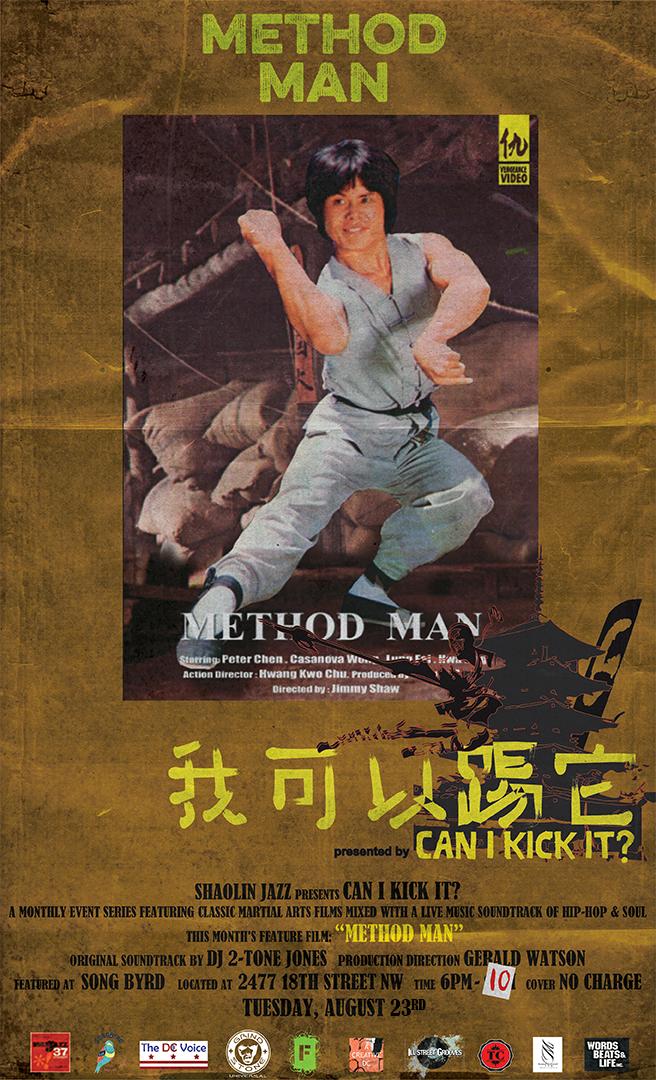 https://www.eventbrite.com/e/can-i-kick-it-823-screening-of-method-man-tickets-27051373386