Capital Hilton offers an Epic Spring Getaway in Washington, DC Steeped in History
SOURCE: prweb.com
Guests Can Soak Up The History of Washington, DC at One of the Most Iconic Hotels in the Nation's Capital and have the Chance for a Suite Upgrade
WASHINGTON (PRWEB) APRIL 05, 2019
Washington DC does Spring like no other city with cherry blossoms setting the stage for visitors and locals to enjoy. The District's rich past is monumental, offering magnificent opportunities to sightsee explore history and enjoy some fresh air.
This spring, Capital Hilton is honoring its past while celebrating the future and offering a package for guests, which includes the possibility for an upgrade to the legendary Truman Suite. Located just steps from The White House and one of DC's Historic Hotels, the iconic Capital Hilton provides the perfect home base to explore the nation's capital with friends and family.
A day of exploration deserves a hearty breakfast and some expert tips on where to go. Capital Hilton's General Manager, a history buff and collector of historic artifacts offers his local expertise along with a history book that showcases the hotels iconic 75 year history.
Between April 15 – May 19, 2019 guests staying at Capital Hilton on the Breakfast Included Package (2 night minimum, Thursday – Sunday) will receive many historic enhancements.
Breakfast Included Package:
Welcome letter from the General Manager with favorite history tips
A history book showcasing the iconic 75 year history of Capital Hilton
A detailed Washington, DC tour map of the best notable historic sights
Washington, DC tour itinerary create by the most notable Concierge in the city
A chance to win a complimentary upgrade to the legendary Truman Suite
Complimentary Continental Breakfast for Two
Starting at $159 + tax of 14.95% (subject to availability)
Two night minimum, Thursday – Saturday
In addition to the historic related enhancements provided upon arrival, each weekend the Team at Capital Hilton will surprise one guest room reservations to be upgraded to the Truman Suite where President Truman frequented, hosted events (between 1945-1951) and continues to be the home of a beloved piano he played.
The hotel's Food and Beverage Team has jumped back in time to 1943 and is replicated select food items to give guests a taste in history that will not only please their palate but their wallet. During the celebrated spring dates of (April 15 – May 19, 2019), guests will enjoy a special appetizer and cocktail menu geared from the hotel's 1943 menu with the actual 1943 price to match.
For over 75 years, Capital Hilton has had the honor of hosting presidents, dignitaries, and countless notable leaders alike, and there is much to discover about the history of our iconic hotel. Guests will relish the opportunity to step back in time and immerse themselves into history both at Capital Hilton and in Washington, DC.
To find more information or reserve accommodations, guests may visit The Capital Hilton website.
About Capital Hilton:
Opened in 1943 and listed on the National Register of Historic Places, Capital Hilton has a proud tradition of welcoming the world's travelers to Washington, DC for over 75 years. The Capital Hilton has had the honor of hosting presidents, dignitaries, and countless notable leaders alike and is a Historic Hotels of America member hotel. Located two blocks from the White House and National Mall, the hotel is central to top attractions, shopping, dining, museums and historic sites. Visit capitalhilton.com for more information, and connect with Capital Hilton on Facebook, Twitter and Instagram.
About Hilton:
Hilton (NYSE: HLT) is a leading global hospitality company with a portfolio of 17 world-class brands comprising more than 5,600 properties with nearly 913,000 rooms, in 113 countries and territories. Dedicated to fulfilling its mission to be the world's most hospitable company, Hilton earned a spot on the 2018 world's best workplaces list, and has welcomed more than 3 billion guests in its nearly 100 year history. Through the award-winning guest loyalty program Hilton Honors, more than 85 million members who book directly with Hilton have access to instant benefits, including digital check-in with room selection, Digital Key, and Connected Room. Visit newsroom.hilton.com for more information, and connect with Hilton on Facebook, Twitter, LinkedIn, Instagram and YouTube.
Share article on social media or email:
R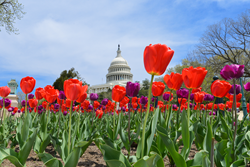 https://www.prweb.com/releases/enjoy_a_historically_epic_spring_in_washington_dc/prweb16216028.htm